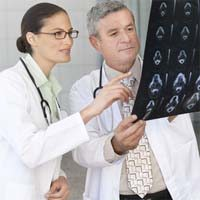 No significant difference was seen in PTM incidence in the immediate and deferred radiotherapy groups.
Raleigh, NC (PRWEB) July 02, 2016
A team of UK researchers has found that metastatic mesothelioma tumors after large-bore chest tube procedures are just as common in patients who have preventive radiotherapy right after the procedure as they are in people who aren't treated until new tumors occur. Surviving Mesothelioma has just posted an article on the new research. Click here to read it now.
Metastatic tumors at the site of a chest tube insertion are known as procedure tract metastases (PTMs). Mesothelioma patients who have to have a large chest tube inserted for any reason are at higher risk for PTMs.
But in their new study of more than 200 pleural mesothelioma patients from across the UK, doctors led by the University of Bristol found no justification for prophylactic radiotherapy after pleural intervention.
"The patients were well matched at baseline. No significant difference was seen in PTM incidence in the immediate and deferred radiotherapy groups," reports lead author Amelia O. Clive, PhD, in The Lancet Oncology.
Radiotherapy side effects in the two groups of patients were also evenly matched.
"Although this is one of those decisions that still has to be made on an individual basis, most mesothelioma patients can take comfort in the thought that this type of prophylactic radiotherapy is one procedure they may be able to safely do without," says Surviving Mesothelioma's Managing Editor, Alex Strauss.
To read the details of the study and learn more about PTMs, see Most Mesothelioma Patients Don't Need Preventive Radiotherapy after Pleural Intervention, now available on the Surviving Mesothelioma website.
Clive, AO, "Prophylactic radiotherapy for the prevention of procedure-tract metastases after surgical and large-bore pleural procedures in malignant pleural mesothelioma (SMART): a multicentre, open-label, phase 3, randomised controlled trial", June 23, 2016, The Lancet Oncology, http://www.thelancet.com/journals/lanonc/article/PIIS1470-2045(16)30095-X/abstract
For nearly ten years, Surviving Mesothelioma has brought readers the most important and ground-breaking news on the causes, diagnosis and treatment of mesothelioma. All Surviving Mesothelioma news is gathered and reported directly from the peer-reviewed medical literature. Written for patients and their loved ones, Surviving Mesothelioma news helps families make more informed decisions.