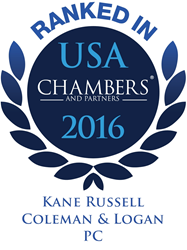 Through the years, not only has the firm repeatedly been recognized by this respected organization, but individual attorneys have too, proving that the excellence of our attorneys has been integral to the success of the firm as a whole.
Dallas, Texas (PRWEB) July 05, 2016
Dallas-based law firm Kane Russell Coleman & Logan PC (KRCL) has been recognized for excellence in Bankruptcy and Restructuring by Chambers USA in America's Leading Lawyers for Business guide. The firm has been ranked in Band 4 in Texas. Chambers writes that KRCL's Bankruptcy and Restructuring group is "notable for its work for debtors… [and] for working on high-value bankruptcy litigation."
Chambers also selected five KRCL attorneys for acknowledgment. Individually, George Barber, Joseph Coleman, and Joseph Friedman were recognized for their work in Bankruptcy and Restructuring.
"This is the eighth year in a row that KRCL has been recognized by Chambers USA," observes Joe Coleman, the Chair of the Bankruptcy and Creditors' Rights group. "Through the years, not only has the firm repeatedly been recognized by this respected organization, but individual attorneys have too, proving that the excellence of our attorneys has been integral to the success of the firm as a whole."
Joseph Coleman has represented 38 Creditor Committees in 16 states, confirmed in excess of 12 plans of reorganization representing both private and public debtors, and served as counsel for many lenders and other secured creditors in Chapter 11 and other insolvency-related matters. A client reports to Chambers USA that he is "passionate about protecting his clients' best interests and one of the hardest-working people I have ever seen."
Joseph Friedman has been recognized for the seventh time by Chambers USA for his work in Bankruptcy and Restructuring. His extensive experience includes the preparation of non-consolidation and collateral defeasance opinions required for complex loan transactions. He is highly regarded by his clients, one of whom comments that he is "ultra-efficient and covers all bases."
George Barber not only has extensive experience representing clients in bankruptcy and restructuring matters as an attorney, but also previously worked as a workout banker at one of the largest banks in Texas. In this role, he received formal credit training and managed commercial loan workouts, foreclosures, bankruptcies, and litigation, with particular emphasis on oil and gas related matters.
Chambers also ranked Raymond Kane, a founding director of the firm, in Band 2 of Real Estate. Raymond represents landlords and tenants in retail, office and industrial development and leasing transactions. He also maintains a special practice emphasis in the areas of multi-family and commercial development, lending and leasing matters, including build-to-suit transactions and the workout, modification and extension of lending transactions.
"Being selected for the Chambers USA Guide is widely considered to be one of the most prestigious honors a law firm or attorney can receive," says Raymond. "We are tremendously proud to be included on this list among so many reputable firms and attorneys. The fact that Chambers consistently recognizes KRCL for our work in bankruptcy, real estate, and litigation is a testament to the firm's breadth of experience and range of excellent services offered to clients."
Kenneth Johnston, a Director in the Firm's Litigation Group and leader of the Financial Services Group, was also listed by Chambers within Band 4 of General Commercial Litigation regionally. Kenneth represents financial institutions in a variety of matters, including general bank operations, lender liability defense, defensive litigation, statutory and regulatory compliance litigation, insolvency and creditor's rights and inter-bank liability.
For the last twenty years, Chambers has published leading directories of the legal profession. Chambers' reputation is based on the independence and objectivity of its research. Chambers has 100 full-time researchers who interview thousands of lawyers and their clients around the world. This intensive, continuous research identifies the world's leading lawyers and law firms—those who perform best according to the criteria most valued by clients.
Kane Russell Coleman & Logan PC is a full service law firm with offices in Dallas and Houston. Formed in 1992 with five lawyers, today KRCL has more than 95 attorneys. The Firm provides professional services for clients ranging from Fortune 500 companies to medium-sized public and private companies to entrepreneurs. KRCL handles transactional, litigation and bankruptcy matters in Texas and throughout the country.
SOURCE: Kane Russell Coleman & Logan, P.C.