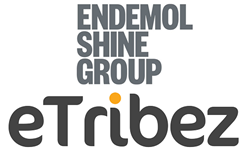 As a global production company, we are pleased to expand our long-term relationship with eTribez. Through our partnership with eTribez to new territories, we will be able to take our casting for our productions to the next level. - Paul Williams, ESG
(PRWEB) July 21, 2016
eTribez, the world's leading provider of digital solutions for the entertainment industry, has entered a multi-year international partnership with Endemol Shine Group.
The deal will see the eTribez Casting platform™ available to Endemol Shine Group's production companies around the world. The two companies already collaborate in a number of European and Latin American territories, with shows such as The Island, Masterchef, Pointless and Big Brother. The new expanded agreement will see the platform offered to over 30 territories where Endemol Shine Group has a presence.
The platform provides a streamlined casting system that will enable Endemol Shine Group's production companies to consider twice the amount of candidates, while saving 50% of the needed resources. The platform boosts variety by allowing any candidate - even the most geographically remote - to apply online. With first-class support for mobile devices, anyone can apply at any time, making it easier to select the most fitting candidates for creating high-quality content.
"After 3 years of a fruitful cooperation with Endemol Shine Group, the leading international production powerhouse creating world-class content, the results speak for themselves. We are grateful for Endemol Shine's vote of confidence, bringing forth a new strategic partnership that positions us well for leading shows in 30 countries worldwide with eTribez' innovative solutions".

About eTribez
eTribez is the industry leader in digital solutions for TV production management technology. eTribez empowers broadcast networks and production companies with the ability to streamline production, generate new revenue streams, and strengthen viewer loyalty. eTribez' cutting-edge technology provides market players with a comprehensive suite of digital solutions: Casting for TV and Films, Production Management, Online Voting, Crowd Casting, Audience Management, UGC Collaboration, Fan Rewards, and more. eTribez powers more than 150 shows in 15 territories, including the US, UK, France, Germany, Brazil, Mexico, and more.
eTribez is located in Tel Aviv and Los Angeles, and is expanding its operations with new offices in London and Miami in the upcoming year.
For more about eTribez, please contact info(at)etribez(dot)com, call: +1-888-414-3695, or visit
http://www.etribez.com.
About Endemol Shine Group
Endemol Shine Group is a global content powerhouse creating world-class content for all platforms.
As a producer and distributor, Endemol Shine Group works on a unique local and global axis, comprised of 120 companies across more than 30 markets dedicated to creating content that enthralls and inspires.
Global hits include many long-running non-scripted formats such as Masterchef, Big Brother and Your Face Sounds Familiar - with a new generation being adapted around the world, including The Brain (Germany), Hunted and The Island (UK), Spelling Star (Australia), France's Big Music Quiz and many more. In 2015 the company's travelling formats originated from eleven different countries across the Group.
Endemol Shine Group's drama portfolio is similarly international and diverse, boasting critically acclaimed worldwide hits such as Humans, Peaky Blinders, Black Mirror, Kingdom, Grantchester, The Fall and Broadchurch (each sold in 100 or more markets). This is alongside recent hits including Intersection (Turkey), Springtide (Sweden) and Penoza from The Netherlands. Furthermore, in addition to airing around the world, Sweden's Bron/The Bridge and Israel's Orpheus Project have been successfully adapted for different local regions.
The Group's award-winning digital production and distribution studio Endemol Shine Beyond, helps advertisers and brands engage millennial audiences around the world through popular online content and channels, including eSports format Legends of Gaming and lifestyle brand ICON, each with local adaptations in multiple markets.
With other iconic hits including Deal or No Deal, Mr. Bean, The Biggest Loser, The Money Drop and many more, Endemol Shine Group has produced a total of 733 productions in over 50 languages across 68 territories in 2015, airing on 256 channels around the world.