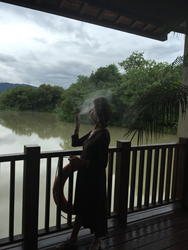 Grants Pass, OR (PRWEB) July 02, 2016
Sharon Kleyne, Bio-Logic Aqua® Research Water Life Science® founder, creator of Nature's Tears EyeMist and radio host wants people to consider their eye health and eye safety as they commemorate our nation's Independence Day.
According to the American Optometric Association (AOA), approximately 9,600 consumers were treated for injuries due to fireworks in emergency rooms during 2011. This Fourth of July, take precautions when setting off fireworks.
The AOA recommends the following tips to help protect eyesight:
1. Wear protective eyewear when lighting and handling fireworks of any kind.
2. Refrain from purchasing sparklers. Heating up to 2,000 degrees or hotter, sparklers are the number one cause of firework injuries requiring trips to the emergency room.
3. Do not allow kids to handle fireworks and never leave them unsupervised near fireworks.
(http://www.aoa.org/newsroom/observe-eye-safe-precautions-to-protect-eyesight-this-fourth-of-july?sso=y)
Kleyne also wants people to ask themselves important questions regarding their ongoing eye health. "Consider this question," she says, "before another day goes by: What would you do if blindness was imminent?"
As with most scary health scenarios, we tend to ignore the prospect of something as life-changing as blindness, but in fact, according to findings from the 2014 National Health Interview Survey (NHIS) Preliminary Report, an estimated 22.5 million adult Americans (or nearly 10% of all adult Americans) reported they either "have trouble" seeing, even when wearing glasses or contact lenses, or that they are blind or unable to see at all. 22.5 million…that is an astonishing number!
It is so astonishing that it behooves every person on earth to look to their own eye care before it is too late. Human beings today are constantly challenged by dehydration and depletion of earth's water vapor due to pollution and climate change. Dry Eye Syndrome, allergies and respiratory conditions lead directly to glaucoma, cataracts, melanoma and blindness.
"It won't do to act like an ostrich with your head stuck in the sand," said Kleyne. That is why her mission since the 1980s has been to replenish the vapor of water surrounding the earth and making available pure culture grade, trade mark secret fresh water to treat threatening eye and skin conditions.. While encouraging everyone to drink at least 8 glasses of fresh water a day, Kleyne reminds us that the body's technology is water—breathing the water vapor, which must be supplemented by recycling. "You need to drink pure, fresh water in order to stay hydrated," said Kleyne.
A unique remedy for dry eye syndrome, allergies, and a host of other afflictions is Kleyne's Nature's Tears EyeMist, the personal hand-held humidifying device emitting a pure, pH balanced, 100% water mist for dry eyes. Nature's Tears EyeMist is endorsed by more than 22,000 ophthalmologists and optometrists nationwide and was successfully test-marketed in more than 70,000 outlets.
As you pause on the Fourth of July to contemplate your love of country and the sacrifices so many have made to allow you to enjoy your cornucopia of freedom, also resolve to take greater charge of your health, especially your eyes and the precious gift of sight. "You only have two eyes," Kleyne reminds us, "and they are almost completely made up of water. If you want to see clearly, you must be hydrated!"
©2016 Bio-Logic Aqua® Research Water Life Science®. All rights reserved.