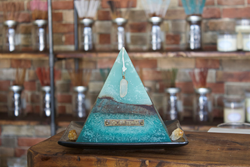 Be the Light
(PRWEB) July 06, 2016
Finding ways to attract positive energy to a home or a family is very often a top priority for the spiritually aware. Fortunately, new exciting creations in these areas are baring fruit in very remarkable ways. Enter the metaphysical store Soul-Terra, who have been quickly earning a great deal of discussion through the release of innovative spiritual tools and other items that are based on well researched and studied energetic principles. Their latest release, a line of Crystal-Pyramid Candles, brings the pyramid – a structure built historically across many spiritually connected cultures worldwide to help connect man with the source – into the home. The very attractive and aesthetically pleasing candles are being credited by many new owners with raising the energetic levels of their home and families in a way that can be clearly felt and experienced.
"We believe the key to unlocking our greatest human potential is to do everything by 'being the light'," commented a spokesperson from Soul-Terra, who operate both a very active online shop and a physical store in Florida. "Our Crystal-Pyramid Candles serve as a positive reminder of all of our commitments to become more and to have faith in and go after our dreams. Like the pyramids of ancient cultures seeing these in our homes, smelling their incredible smell and getting to contemplate their design can really enrich our lives in a very real way."
According to Soul-Terra, each candle has a burn time of over 150 hours. They are crafted with love out of soy and highly refined paraffin and measure 6 inches by 6 inches. Inside each Crystal-Pyramid Candle is hidden a well-embedded crystal traditionally believed to be a great aid in boosting transcendental thinking. Specially designed candle holders are also available and any combined orders of over $50 even ship for free.
Early feedback for the Crystal-Pyramid Candles have been very passionate across the board.
Michelle S., from Boston, recently said in a five star review, "I love things that look beautiful and especially things that can help the house smell great. Soul-Terra has really excelled in both these areas with their Crystal-Pyramid Candles. They look and smell amazing. Even better is that my boyfriend loves Egyptian culture so he likes our candle as much as I do."
For more information be sure to visit https://www.soul-terra.com.