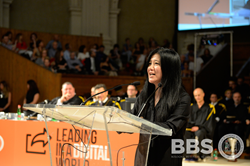 Terrible situations are just an unfortunate series of events, unless you can turn them in to an opportunity
Bologna, Italy (PRWEB) July 04, 2016
"I think whatever your age, color, sex or political belief when someone asks you to address a graduating class you sense a certain rite-of-passage grandeur and it is somewhat overwhelming to say the least." Thus Stevie Kim, Korean born, American bred and today considered by most the Ambassador of Italian wine, opened her commencement speech at the Bologna Business School Graduation Ceremony in Bologna on Friday evening.
Speaking in front of 400+ graduates eager to go out and conquer the world, the Managing Director of Vinitaly International (among several job titles) went on to present 6 life-lessons (or "6 things I wished someone had told me after graduation") inspired by real-life experiences:
1) Embrace diversity, most importantly, diversity of others, their ideas and experiences. Be authentic, be yourself.
"I was born in Korea, raised in America and have now lived in Italy for the great portion of my adult life. Some have described me as having the physical attributes of an Asian, and thinking like a New Yorker, but possessing an Italian heart. In the beginning, having a Korean-American woman representing Italian Wine was a bit controversial in the Italian Wine Community, to say the least. In addition, I knew nothing about wine. I was and still am not an expert by any means. Paradoxically, the fact that I knew nothing about wine helped me to translate the complexities of Italian wine to make it accessible to the rest of the world. My motto was and still is today "If I can understand it, so will the others"."
2) It's ok to not be an expert. Don't run away from your weaknesses and unpleasant situations, turn them into opportunities to reinvent yourself. Take charge of your career.
"Your first job will not be your last, and most of you may not get the "dream job" straight out of school" the mother-of-two explained going on to recall the key moments of a long, challenging but very successful career.
"After meeting my husband I went for a Masters program and sought the big job which I never got. I came from consulting and had some solid work experience but back then a recently married woman with childbearing traits did not sit very well with many prospective employers in Italy."
Mrs Kim soon decided to abandon the Italian job market to start her first company and pursue a hand-made career, which today has led her to become one of the most prominent figures within the Italian wine sector.
"Terrible situations are just an unfortunate series of events, unless you can turn them in to an opportunity."
3) Don't get fixated with job titles, especially in the beginning.
"In my organization now, the younger generation tends to be fixated with job titles. I have one piece of advice for this - do not get caught up in titles or the size of the organization. Be humble and get the job done even if it's just making photocopies or sorting out an excel sheet.
"Always be respectful and generous to your colleagues and your clients, and remember that every single person you'll work with in your new position can teach you something valuable."
4) If you think school is over, you couldn't be more wrong. Whether it's your next job interview or business plan, your studies have only begun. Prepare for everything you do. And whenever you can:
KISS (Keep It Simple Stupid)
"Education will never stop and must never stop. It is a learning process of both knowledge and wisdom, which are two different things. Actually a big part of my life and my career is education," Stevie Kim explains going on to describe one of her main roles today within the wine sector, that is, to promote Italian wine around the world through her innovative educational project, the Vinitaly International Academy.
5) What does it mean to be digital today? What about digital etiquette?
"The first thing your employer will likely do is go on Linkedin and other social media platforms to check your profile. Do not post on social media what you would not like your future employer (or your mother) to see.
"Whatever your politics may be, build your social media profile with some thought and authenticity and should you want to explore business in China, WeChat is a must.
"And when you are in a meeting, at a restaurant, or even at a job interview, please please limit your use of smartphones and listen to others while they talk; it's a simple and decent way to show respect."
6) And lastly, Meditate, Run or try Zen for a size
"There are numerous benefits to doing physical activity, but for me it's an essential part of my mental stableness, I highly recommend it," she concludes.
Other speakers at the Graduation Ceremony included: Max Bergami, Dean of the Bologna Business School, Francesco Ubertini, Canchellor of Bologna Business School, Romano Prodi, President of the steering board at Bologna Business School, Stefano Domenicali, President and CEO of Lamborghini Auto, Luca Garavoglia President of Campari Group and Nicola Pianon, Senior Partner at the Boston Consulting Group.
To read the entire commencement speech please visit: http://goo.gl/xg2mhJ
About:
Veronafiere is the leading organizer of trade shows in Italy including Vinitaly (http://www.vinitaly.com), the largest wine and spirits fair in the world. During its 50th edition Vinitaly counted more than 4,100 exhibitors on a 100,000+ square meter area and 130,000 visitors from 140 different countries. The next edition of the fair will take place on 9 - 12 April 2017. The premier event to Vinitaly, OperaWine (http://www.vinitalyinternational.com) "Finest Italian Wines: 100 Great Producers," will unite international wine professionals on April 8th in the heart of Verona, offering them the unique opportunity to discover and taste the wines of the 100 Best Italian Producers, as selected by Wine Spectator. Since 1998 Vinitaly International travels to several countries such as Russia, China, USA and Hong Kong thanks to its strategic arm abroad, Vinitaly International. In February 2014 Vinitaly International launched an educational project, the Vinitaly International Academy (VIA) with the aim of divulging and broadcasting the excellence and diversity of Italian wine around the globe. VIA this year launched the second edition of its Certification Course and today counts 54 Italian Wine Ambassadors and 3 Italian Wine Experts.