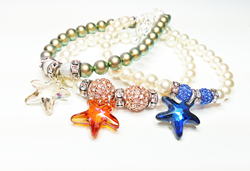 "Every woman deserves to sparkle and shine bright like a diamond."
BOSTON, MA (PRWEB) July 06, 2016
Stunning, gorgeous hues of the sea are featured in The Poseidon Collection - SCE's new nautical inspired jewelry. In collaboration with Céline Cousteau, the granddaughter of the famed ocean explorer Jacques Yves Cousteau, and world-renowned Swarovski©, each crystal has been designed to shine with colors of the sea.
Hand crafted in Austria, Swarovski© is one of the world's leading name in brilliantly cut glass crystals. Each piece featured in all our collections are bought from certified and reputable dealers.
Inspired by the mysterious, deep blues of the sea, our Swarovski© Bermuda Starfish bracelet feature dazzling Pave crystals and cream colored pearls.
Luminous greens and lavish purple hues glint and glimmer in our hand designed drop earrings, as well as our matching bracelet, featuring a gorgeous Swarovski© Peridot bead that is encrusted with Pave crystals.
Each piece in The Poseidon Collection is exclusively hand designed with Swarovski© crystal beads and iridescent pearls. Stylish and one of a kind, all our designs feature the highest quality product. Swarovksi© pearls start with a unique crystal core, covered with an innovative pearlescent coating that leaves a flawless, silky-smooth surface resistance to cosmetics, chemicals and perfumes.
Sweet Charm Elegance is a Boston based company that hand designs unique and dazzling jewelry. Recently, Sweet Charm Elegance was featured in the 2016 Billboard Music Award commemorative program, in the March 2016 issue of Woman's World, The National Examiner, news outlets, such as Univision D.C., and numerous online blogs. Sweet Charm Elegance continues to create stylish and trendy designs.
sweetcharmelegance.com