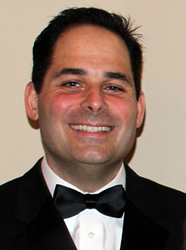 Having been diagnosed with physician burnout, I found the practical teaching presented at the American Meditation Institute to be the perfect treatment and cure for my disease. -- Anthony Santilli MD
AVERILL PARK, NY (PRWEB) July 06, 2016
Anthony Santilli, MD will discuss how he reversed his diagnosed condition of burnout through the daily practice of meditation and its allied disciplines during The American Meditation Institute's (AMI) eighth annual mind/body medicine CME conference, October 25-29, 2016 at the Cranwell Resort and Spa in Lenox, Massachusetts. Entitled American Meditation: The Heart and Science of Yoga this 30 CME comprehensive physician training is accredited through the Albany Medical College Office of Continuing Medical Education.
CME Conference presenter Anthony Santilli MD received his medical degree from the University at Buffalo, having completed his fellowship at Weill Cornell University and his post-graduate training at Brown University. He is board-certified in Pulmonary and Critical Care medicine in Schenectady and Amsterdam New York, and serves as a member of the AMI Medical Education Department.
During his CME presentation entitled, "Relieving Physician Burnout," Dr. Santilli will chronicle his personal five-year journey to reversing burnout. In his lecture, Dr. Santilli will recount the conditions that led to his burnout and the specific meditation, yoga and breathing tools he learned and employed that enabled him to transform the debilitating consequences of burnout into an increase in energy, creativity and a renewed dedication to his medical practice. According to Dr. Santilli, "Having been diagnosed with physician burnout, I found the practical teaching presented at The American Meditation Institute to be the perfect treatment and cure for my disease. Living life in harmony with the basic principles of practices such as AMI Meditation, gentle yoga exercises, diaphragmatic breathing and healthy food choices, I experienced a complete reversal of my chronically stressful condition."
According to faculty director Leonard Perlmutter, who will present the core curriculum of Yoga Science, this year's CME conference has assembled an impressive faculty of distinguished experts who will present lectures and provide practicums on AMI Meditation, diaphragmatic breathing, mantra science, Yoga psychology, mind function optimization, Trauma and PTSD, Neuroplasticity, an understanding of the chakra system as a diagnostic tool, nutrition, Functional Medicine, epigenomics, Ayurveda, easy-gentle yoga and lymph system detoxification. In addition to Perlmutter, the speakers include: Mark Pettus, MD, board-certified internist and nephrologist currently serving as Director of Medical Education and Population Health at Berkshire Health Systems; Sara Lazar PhD, instructor in the Department of Psychiatry at Harvard Medical School, and an Associate Researcher in the Psychiatry Department at Massachusetts General Hospital; Beth Netter MD MT, holistic physician and acupuncturist in Albany, NY and chair of the AMI Medical Education Department; Prashant Kausik, MD, board-certified rheumatologist and interim Rheumatology Program Director at Albany Medical College and the VA Stratton Hospital, Albany, NY; Susan Lord MD, holistic physician and health consultant for Kripalu Center for Yoga and Health; Jesse Ritvo MD, Assistant Medical Director, Inpatient Psychiatry, University of Vermont Health Center; Jyothi Bhatt BAMS, Ayurvedic practitioner and faculty member of Kripalu School of Ayurveda and Physician's Assistant at New York Presbyterian/Weill Cornell Medical Center; and Jenness Cortez Perlmutter, co-founder of AMI and internationally known artist whose mediation practice has enhanced her remarkable detailed artistry.
AMI founder Leonard Perlmutter underscores that, "Physician stress and burnout are instructive indications that an individual needs to make a change in order to experience a healthy, creative and rewarding personal and professional life. This year's conference is designed to teach physicians and healthcare providers how to employ meditational skills that can reliably diminish or eliminate burnout and chronic complex disease symptoms." This year's core curriculum has been endorsed by medical pioneers Mehmet Oz MD, Dean Ornish MD and Bernie Siegel MD. Previous conference attendees have also noted that the material presented has made a beneficial impact toward their personal and professional efforts at self-care."
-30-
About the American Meditation Institute
The American Meditation Institute is a 501(c)3 non-profit educational organization devoted to the teaching and practice of Yoga Science, meditation and its allied disciplines as mind/body medicine. In its holistic approach to wellness, AMI combines the healing arts of the East with the practicality of modern Western science. The American Meditation Institute offers a wide variety of classes, retreats, and teacher training programs. AMI also publishes "Transformation" a bi-monthly journal of meditation as holistic mind/body medicine. Call (518) 674-8714 for a mail or email subscription.
Media Contact:
Robert Washington
60 Garner Road
Averill Park, NY 12018
Tel: 518-674-8714
Fax: 518-674-8714