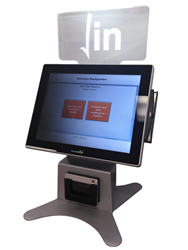 Our system easily integrates with athenahealth, making it simple to implement.
(PRWEB) July 06, 2016
Clearwave Corporation, a leading provider of self-service patient registration technology, today announced a partnership with athenahealth, Inc. through athenahealth's 'More Disruption Please' (MDP) program, making Clearwave part of the athenahealth® Marketplace offerings. Together, the companies will work to link athenahealth's growing network of more than 75,000 health care providers with the capabilities of Clearwave so they can more efficiently get patients out of the waiting room and into the exam room.
"Clearwave delivers a valuable service for patients and providers alike by streamlining an often mundane and error prone process," said Brian Stone, CFO, Clearwave Corporation. "By participating in this program Clearwave can help more healthcare providers streamline the registration process, and improve office workflow and patient satisfaction at the same time. Our system easily integrates with athenahealth's athenaCollector® service, making it simple to implement a valuable service that benefits the provider workflow and the patient experience."
athenahealth is a network-based services company with a vision to build a national health information backbone to help make health care work as it should. As an MDP partner, Clearwave joins a network of like-minded healthcare professionals who are looking to disrupt established approaches in healthcare that simply aren't working, aren't good enough, or aren't advancing the industry and help providers thrive in the face of industry change.
To learn more about athenahealth's MDP program and partnership opportunities please visit http://www.athenahealth.com/disruption.
About Clearwave Corporation
Clearwave's mission has been, and remains, to standardize and automate administrative and patient-facing services that providers manage to serve patients, to comply with federal/state regulations and to maximize revenue cycle performance. Clearwave accomplishes this by aligning the provider's existing systems to communicate and gather information more effectively. This is achieved by full integration with numerous HIS, PMS and EHR software products.
For more information: (678) 738-1120 or visit http://www.clearwaveinc.com.