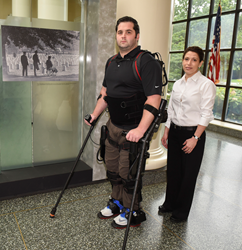 When the opportunity arose to help provide hospitals with this incredible new technology, we, as Eagles, felt we owed it to the men and women who protect our freedoms to lend a hand.
Arlington National Cemetery, VA (PRWEB) July 05, 2016
Austin Reese, a veteran Marine with spinal cord injuries and lower extremity paralysis, highlighted American innovation enabling significant recovery and enhanced health. The Fraternal Order of Eagles (F.O.E.), an international nonprofit community organization, and Ekso Bionics, a California-based pioneer in the field of robotic exoskeletons, partnered for a special ceremony honoring veterans at Arlington National Cemetery July 4. Along with Austin Reese, they placed a focus on this extraordinary development during a demonstration on America's birthday.
Ekso Bionics Ambassador Austin Reese, along with representatives from both companies, toured the cemetery, with Reese placing a wreath on the Tomb of the Unknown Soldier.
The two groups united along with Reese, a veteran, on the nation's birthday to bring awareness to the technological efforts of Ekso Bionics and the fundraising efforts of the F.O.E. as the groups continue their push to provide Ekso GT rehabilitation exoskeletons to Veterans Affairs facilities across the United States.
"When the opportunity arose to help provide hospitals with this incredible new technology, we, as Eagles, felt we owed it to the men and women who protect our freedoms to lend a hand," F.O.E. Grand Worthy President Bud Haigh said. "We're extremely proud to be involved in this endeavor and to see the difference it's making in so many lives firsthand."
In May, the F.O.E. and Ekso Bionics, along with veterans-support organization SoldierStrong, donated an Ekso GT suit to the Minneapolis Veterans Affairs Hospital. Members of the F.O.E. raised $75,000 toward the purchase of the suit.
During the 2015 F.O.E. International Convention in Milwaukee, WI, the organization unveiled its Ekso Project with a live demonstration of the Ekso GT suit on stage and a feature in the October 2015 edition of its SOAR news publication.
The project continues the Fraternal Order of Eagles' commitment to veterans, which also includes Operation Eagle, an annual fundraising campaign to provide much needed supplies to Eagles members and the children/grandchildren of Eagles members currently serving the United States and Canada overseas; the Those Who Serve program, which offers a free year of membership to current and former servicemen and women; and the Eagles' Memorial Foundation, which provides health and educational benefits to the children of Eagles members who lose their lives in service to their country.
Ambassador Reese says, "I first started using the Ekso GT at the Richmond Veterans Affairs hospital in October of 2014 during rehab from a surgery that I had. It was at this time that I knew there was more out there. Even if I wouldn't be able to fully walk under my own power again then at the very least I could hopefully help veterans and others who are paralyzed become aware and gain access to this amazing technology.
"Since I have been using the Ekso GT I have maintained a great deal of flexibility, muscle tone and when I am walking and talking to people standing up it gives me a great deal of pride to feel like I am an equal again. The Ekso GT has helped me to feel like a normal person again and I have seen it give hope to people who have been newly injured and feel like nothing is going their way. It is an honor to be able to demonstrate the Ekso not only to civilian hospitals but to try and get as many devices into VA hospitals as possible to help out my fellow vets."
For more information about the Fraternal Order of Eagles Ekso Project, visit the Ekso Project page at http://www.foe.com. Donations can be sent to the F.O.E. at 1623 Gateway Circle South, Grove City, OH 43123. Donations should be made out to the F.O.E. Charity Foundation with Ekso Project noted in the memo line.
About the Fraternal Order of Eagles
The Fraternal Order of Eagles, an international non-profit organization, unites fraternally in the spirit of liberty, truth, justice, and equality, to make human life more desirable by lessening its ills, and by promoting peace, prosperity, gladness and hope. Founded in 1898, the Eagles fund research in areas such as diabetes, heart disease, kidney disease and cancer, and raise money for neglected and abused children and the aged, as well as work for social and civic change.
###
Video Link to F.O.E. Eksoskeleton Project - https://youtu.be/7xbgL0JzC2U