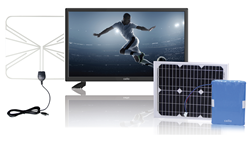 This is the first consumer TV in the world to work off grid. Perfect for large parts of Africa where there is no reliable electricity supply.
Bishop Auckland, County Durham (PRWEB UK) 6 July 2016
Being the only UK electronics brand to manufacture its televisions on home soil, Cello is used to doing things differently. They were the first to develop TVs with integrated DVD players and long before anyone had heard the words 'Smart TV' Cello were ahead of the curve with their own version of the connected TV. Their latest offering is an excellent example of original thinking - a 22" LED TV that is powered solely by the sun.
Clever as it may seem most of us might be forgiven for wondering why solar powered TVs are needed in a world where electricity is plentiful. However, the reality is quite different for an estimated 1.2 billion people (17% of the global population) who have to manage without a consistent and reliable supply of electricity. Couple this with the outdoor travel market where motor homes, caravans and boats are often remotely located you can begin to see why the idea for a solar powered TV is both ingenious and necessary. So, why now and how did the idea come about?
It all started whilst Brian Palmer, the CEO of Cello Electronics was on holiday in Africa. Palmer explains, "I love Africa and have visited many times, so when I heard about Lighting Africa plus the fact that many areas had become digital TV enabled it got me thinking. Could we make a TV that was capable of working off-grid? Together with John Rowe, our Technical Director, we set about developing a TV with a built-in rechargeable battery powered from a solar panel."
Recently launched at the 03rd Solar Africa EXPO in Kenya, the concept has been very well received. Initially, the solar powered TV offering will be made up of a 22" model that comes as a complete out of the box solution with TV, solar panel and smart antenna. The solar panel is connected to the TV and positioned in a suitable location to pick up solar energy whilst the smart antenna is able to receive high definition broadcasts through the DVBT2 tuner. There is also a built-in satellite tuner, which substantially broadens the choice of channels. This means that in remote parts of the world where there is no broadcast TV signal, viewers should be able to receive satellite channels.
One of the challenges of creating a product of this nature is how to control the energy that the solar panel produces. Storage of energy and its efficient usage is crucial to ensuring the TV remains operational for a reasonable period of time. That's why Cello have developed their own patented 'Smart Energy Management' system which ensures up to 10 hours of running time on a single charge.
Another significant benefit of the solar powered TV is its ability to charge mobile phone devices via the USB connection. Mobile phones are well used in Africa, but with no electricity supply, charging a phone is a daily challenge that often involves walking for miles. In addition, lights can be powered through the USB along with other essential devices. This means the solar powered TV has the potential to become the focal point of much needed power within the home.
The solar powered TV package will be available to buy for around US$300, which may be a barrier for some in the poorer regions of Africa. With that in mind Cello has developed a unique pay as you go scheme (PAYgoTV) where the consumer only pays for the amount of TV that they watch by purchasing a code entered via the remote control handset.
We live in an increasingly globalized world and yet for many reasons parts of the planet still feel marginalized and isolated. Whilst it may not be the answer to all of the challenges facing the third world, access to digital and satellite television is bound to have an empowering effect and can only be seen as a good thing.
Links to other solar powered TV resources
Unboxing and powering up the Cello Solar TV
Cello Launches the world's first solar TV at Solar Africa in Nairobi
About Cello Electronics:
Cello Electronics is one of Europe's most innovative LED TV brands. All of its TV products are manufactured at a specially developed production facility in the North East of England and are distributed in the UK and Europe through major retailers offline and on.