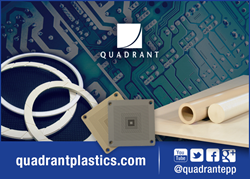 "We're seeing smarter, faster, and more powerful electronic products," states Quadrant EPP Global Strategic Marketing Manager Scott Williams. "Our materials can facilitate all of that growth while still keeping affordability at the forefront."
San Francisco, CA (PRWEB) July 06, 2016
Quadrant Engineering Plastic Products (EPP), leading global supplier of high-performance thermoplastic materials, visits SEMICON West 2016 this July to showcase their innovative Engineering Plastic Materials for the Semiconductor, Electronics, and Solar industries.
With electrical and semiconductor products becoming smaller, thinner, and lighter (while their data processing capabilities grow faster with more storage, thanks to the miniaturization of the IC chip), an extensive portfolio of innovative materials is imperative for industry success. Quadrant EPP materials are specifically designed for the wafer production process—meeting the strictest requirements for low-contamination, consistent wafer manufacturing and focused on delivering low-cost solutions when compared to traditional materials such as quartz and ceramics.
In addition to their full portfolio, SEMICON West 2016 will highlight the newest addition to Quadrant EPP's machinable plastic line—Semitron® MPR 1000. The material was developed specifically for use in vacuum chamber applications such as those found in Etch, CVD, and Ion Implant. Like many innovative Quadrant EPP products, Semitron® MPR 1000 was developed based on three key premises:

Longevity - Increased life in plasma chambers over traditional plastics (up to 25X over polyimide in ozone)
Clean - Low ionic metal content and low out-gassing
Value - Lower overall cost compared to traditional materials used in vacuum chamber applications (quartz, ceramics, and engineering plastics)
SEMICON West 2016 will focus on issues facing the future of the semiconductor manufacturing industry, including forums covering hot industry topics such as smart manufacturing, shrinking development cycles, rapidly diversifying marketplaces, and innovations in materials, design, equipment, software, and services. Trade show programing has increased almost 50%, from 170 hours in 2015 to 250 hours in 2016, in order to help attendees strategize for disruptive market trends. "We're seeing smarter, faster, and more powerful electronic products," states Quadrant EPP Global Strategic Marketing Manager Scott Williams. "Our materials can facilitate all of that growth while still keeping affordability at the forefront."
Learn more about Quadrant EPP's innovative family of materials at SEMICON West 2016 (booth #2129) at the Moscone Center in San Francisco, CA from July 12-14, 2016. Application specialists and technical experts will be available on-site to answer questions and provide guidance for engineering and application solutions.
About Quadrant Engineering Plastic Products:
Quadrant Engineering Plastic Products (Quadrant EPP) is the worldwide leader in high-performance and advanced plastic & polymer innovations. Its superior products range from UHMW polyethylene, nylon, and acetal to ultra-high performance polymers that resist temperatures to over 800°F (425°C). Quadrant EPP's rods, sheets, tubes, and custom shapes are widely used in food processing and packaging, semiconductor manufacturing, aerospace, electronics, chemical processing, life sciences, power generation, and construction & heavy equipment industries. Showcasing the largest portfolio of engineering plastic materials in the market, Quadrant EPP's global footprint includes over 2,000 team members across the world from application development and technical service engineering to branch offices and technical support.
Acetron, Borotron, CleanStat, Duraspin, Duratron, Erta, Ertalyte, Ertalene, Ertalon, Extreme Materials, Fluorosint, Ketron, MC, Monocast, Nylatron, Nylasteel, Polypenco, Proteus, Sanalite, Semitron, Techtron, TIVAR, and Vibratuf are registered trademarks of the Quadrant group of companies.
Media Contact:
Kim Imes, Marketing
Quadrant Engineering Plastic Products
kim.imes(at)qplas(dot)com
610.320.6709