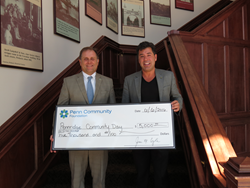 Community Day is such a big part of summer in the Pennridge area.
PERKASIE, Pa. (PRWEB) July 05, 2016
A day filled with laughter, fun and fireworks again has been given a boost that will help organizers ensure that Pennridge Community Day is a continued success, as it has been for more than 40 years.
As part of its ongoing pledge to support local community organizations, Penn Community Bank, Bucks County's leading independent, mutual financial organization, has donated $5,000 to support the 44th Annual Pennridge Community Day, to be held on July 10 in Perkasie's Lenape Park. The bank has donated money to support the event's fireworks display for many years, through its predecessor bank, First Savings Bank of Perkasie.
"Community Day is such a big part of summer in the Pennridge area," said Penn Community Bank Chief Relationship Officer Todd Hurley. "We are proud to join the many businesses and community groups that come together to ensure that this annual tradition continues to offer a day of family fun for our friends and neighbors at minimal cost."
The donation to Pennridge Community Day marks the second time in recent weeks that Penn Community Bank has supported the Pennridge area. This spring, the bank became the official sponsor of the scoreboard at Pennridge High School's multi-sport facility, Helman Field, fulfilling a commitment that had been made to the school district by its forerunner, First Savings Bank of Perkasie.
Pennridge Community Day will begin at noon and run through 6 p.m., followed by fireworks at dusk; rain date for the event is July 17. For more information, visit http://www.pennridgecommunityday.org.
PHOTO CAPTION: Todd Hurley, Chief Relationship Officer of Penn Community Bank, presents a check for $5,000 to Thomas Skiffington, RE/MAX Realtor and president of Pennridge Community Day. The donation will help to support the free day of family fun in Perkasie's Lenape Park.
About Penn Community Bank: PennCommunityBank.com holds more than $1.8 billion in assets and employs more than 300 people at 22 bank branches and two administrative centers throughout Bucks County, Pennsylvania. As an independent, mutual financial institution, Penn Community Bank is not publicly traded and operates with its long-term mission in mind: to help businesses grow and prosper, to support individuals and families throughout their lifetimes, to strengthen the local economy, and to partner with local organizations to act as a catalyst for positive growth in every market it serves.