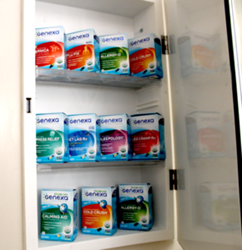 "Our quality standards are among the highest in the over-the-counter medicine industry."
Los Angeles, CA (PRWEB) July 05, 2016
After years of development by medical experts, Genexa® introduces the first-ever line of medicines to be certified organic by the U.S. Department of Agriculture (USDA) and Non-GMO Project verified, meaning they do not contain any genetically modified ingredients. All Genexa products are free of GMOs, gluten, lactose, dairy, egg, magnesium stearate, wheat, soy, fish, and nuts, plus artificial colors, sweeteners and preservatives. The company is a certified B Corporation and donates a portion of profits to organizations focused on children's health through its Spread the Health™ initiative.
"We are extremely proud of our organic and non-GMO certifications – the seals are prominently featured on all our products and website for easy label reading and patient education," said David Johnson, co-founder and chief executive officer, Genexa. "Our quality standards are among the highest in the over-the-counter medicine industry. It's important to us that our retail customers feel confident in the products and know they can trust they are purchasing medicines free from unhealthy fillers and toxins… and simply focus on healing."
Genexa medicines were developed to be a healthier option for treating common ailments and symptoms with the healing intelligence of time-tested, organic homeopathic remedies. The company's line launches with 11 formulations to effectively treat everyday health issues. Formulations for adults treat a wide spectrum of symptoms and conditions, including: flu, cold, allergies, stress, pain, leg cramps, sleeplessness and jet lag. The line specially formulated for children includes treatments for cold, allergy and calming.
The company's proprietary medicines were created by and are regularly reviewed and enhanced by its chief medical officer, Dr. Todd Rowe, a nationally respected physician with an expertise in homeopathic medicine formulation. Working with the Genexa team, Dr. Rowe and his team of chemists and pharmacists spent hundreds of hours meticulously formulating and testing the products. The result is a line of effective, potent medicines that are certified organic by the USDA and non-GMO verified by the Non-GMO Project.
"Our formulations are based on tried and true principles for miasmatic and energetic balance, so that the remedies potentiate each other and promote the most positive patient outcomes," said Dr. Rowe. "These powerful medicines work with your body to help it heal itself."
MSRPs for Genexa products are $17.99-$24.99. Products include: Cold Crush®, Flu Fix™, Allergy-D™, Sleepology®, Stress Relief™, Arnica™, Leg Cramp Rx™ and Jet Lag Rx™; Children's Formulations: Cold Crush®, Allergy-D™, Calming Aid™.
Genexa products are available at Jet.com, Flight001.com, Erewhon Natural Foods, Amazon.com, Genexahealth.com and select regional and national natural food retailers, healthcare practitioner offices and pharmacies. For more information, visit Genexahealth.com or call 855-GENEXA-1.
ABOUT GENEXA® LLC
Based in Beverly Hills, Calif., Genexa is a Certified B Corporation. Its medicines are USDA certified organic and non-GMO verified by the Non-GMO Project. All Genexa packaging is created with the highest grade recyclable paper and certified by the Sustainable Forestry Initiative (SFI).
The company's homeopathic medicines are produced according to a well-established framework of guidelines, regulations and quality standards enforced by the FDA through routine pharmaceutical manufacturing site inspections and surveillance of marketed products. The company's medicines have FDA issued NDC codes and were produced in a way that meets or exceeds the FDA's Good Manufacturing Practices (GMPs) for over-the-counter drugs.
All the active ingredients in their medicines are found in the Homeopathic Pharmacopoeia of the United States (HPUS), an organization of scientists and physicians trained in homeopathic medicine, which publishes official standards for homeopathic medicines. These standards are recognized in the Federal Food, Drug and Cosmetic Act of 1938. Genexa holds itself to the highest standards in both quality and ethics.
For more information, follow Genexa on Facebook, Twitter and Instagram @genexahealth.