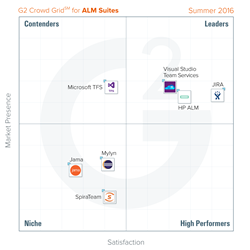 (PRWEB) July 05, 2016
G2 Crowd, the world's leading business software review platform, today released the Summer 2016 ALM Suites Software Grid report to help businesses make the best ALM (Application Lifecycle Management) technology decision. JIRA, HP ALM, and Visual Studio Team Services were named Leaders in the report, receiving strong customer satisfaction scores with a large market presence. JIRA earned the highest overall satisfaction score, while Microsoft Team Foundation Server earned the highest overall market presence score.
The Grid leverages customer satisfaction data reported by authenticated users along with vendor market presence determined from social and public data. Based on a combination of these scores, each software solution is categorized as a Leader, High Performer, Contender or Niche.
Key Findings:
•Interface is important — Products received a great deal of comments, both good and bad, about ALM suites' user interfaces. Those with a modern and intuitive interface were praised, while many popular products appeared dated and confusing to reviewers.
•Version control is tricky — Some reviewers liked products with the ability to have independent repositories, but others said that limits their ability to manage source code. Other programs struggled to integrate external version control systems.
•ALM suites are slow — Most products received reviews discussing slow speed and freezes. Reviewers understood the possibility of lags, but when freezes turned into data losses, users were very unhappy.
About the ALM Suites Software Grid report:
•The report is based on more than 250 reviews written by business professionals.
•Of the 25 products listed in G2 Crowd's ALM Suites category, the ranked products each received ten or more reviews to qualify for inclusion on the Grid.
About G2 Crowd, Inc.
G2 Crowd, the world's leading business software review platform, leverages more than 80,000 user reviews to drive better purchasing decisions. Technology buyers, investors, and analysts use the site to compare and select the best software based on peer reviews and synthesized social data. Monthly more than a half-million people visit G2 Crowd's site. Co-founded by the founder and former executives from SaaS leader BigMachines and backed by roughly $12 million in capital, G2 Crowd aims to bring authenticity and transparency to business technology research. For more information, go to G2Crowd.com.