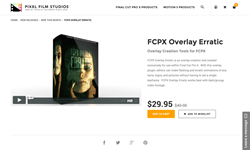 With this overlay plugin, editors can make flashing and erratic animations of any texts, logos and pictures without setting a keyframe
Aliso Viejo, CA (PRWEB) July 06, 2016
"With this overlay plugin, editors can make flashing and erratic animations of any texts, logos and pictures without setting a keyframe," said Christina Austin - CEO of Pixel Film Studios.
FCPX Overlay Erratic is the easiest way to create a custom erratic overlay of text and/or images within Final Cut Pro X. Start by staggering .png images and/or texts in the Final Cut Pro X timeline. Next, place FCPX Overlay Erratic over these assets and create a compound clip. Lastly, place the compounded clip above video footage and select a blend mode that works best.
FCPX Overlay Erratic features intuitive slider controls that allow editors to control the degree of randomness in x, y, and z position. Additionally, users may also control the degree of rotation randomness with the Z Rotation Amount slider. Crank up the sliders to increase the variability of the assets orientation in 3D space. Slide left to achieve a more controlled animation.
Included with FCPX Overlay Erratic is a stylization filter that allows users to add a touch of grunge to their overlay creation. This stylization filter features glow options to help achieve a ghastly look and feel. Additionally, adjust the bad tv parameters can add bits of hair, grain, and scratches to the scene.
FCPX Overlay Erratic's dark and grungy effects are created exclusively for use within FCPX. Create erratic and noisy effects with absolute ease using FCPX Overlay Erratic's intuitive animation sliders. Create new animations with the click of a mouse. Achieve grungy effects without having to set a single keyframe.
Established in 2006, Aliso Viejo, California-based Pixel Film Studios is an innovative developer of visual effects tools for the post-production and broadcast community. Their products are integrated with popular non-linear editing and compositing products from Apple FCPX. Apple, the Apple logo, Mac OS X, and Macintosh are registered trademarks of Apple Inc. in the U.S. and/or other countries. All other trademarks and trade names are the property of their respective owners.