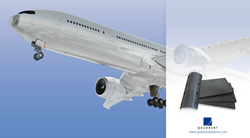 Johänning emphasizes: The Farnborough Air Show offers a great opportunity to demonstrate how our innovations not only increase safety and reliability in aerospace engineering, but also productivity through the replacement of metals in various applications
Vreden, Germany (PRWEB) July 06, 2016
Quadrant Engineering Plastic Products, the world's leading manufacturer of semi-finished engineering plastic materials, is showcasing its broad portfolio of products and solutions for the Aerospace industry at this year's Farnborough International Air Show. Hall 2, Stand C110, Farnborough International Air Show 2016, 11-17 July 2016, Farnborough, UK
To reflect Quadrant's commitment to developing new material innovations for the Aerospace industry, the business will present its latest high quality polyamide product, the Nylatron® FST. Designed specifically for aircraft interiors, its unique features make it the first engineering plastic product of its kind available as semi-finished shapes (rods and sheets). Fire, smoke and toxicity (FST) retardant capabilities enable Nylatron® FST to withstand extreme temperatures up to 120º C. The material is particularly suitable for any kind of application in aircraft interiors where metal parts (e. g. brackets, seal bushings, slide rails and duct seals) or high performance polymers have traditionally been specified. The material is also supported by extensive testing and complies with Federal Aviation Regulations FAR 25.853 – the first engineering plastic shape to achieve this standard.
Frank Johänning, Global Market Manager for Aerospace at Quadrant Engineering Plastic Products comments: "Plastics aren't new to aircraft interiors, but we see a lot of products that are, from our perspective, chosen specifically for their Fire, Smoke and Toxicity (FST) performance levels. Ultimately, Quadrant's overall target is to offer improved solutions through advanced thermoplastic materials that allow a higher level of functional integration.
"To strengthen our portfolio of solutions for metal to plastic conversion and to follow the trend for mechanically higher loaded plastic solutions, we have just extended our offer to supply the global market of structural elements in aircraft construction. As a supplement to our portfolio we are now launching Quadrant's HLS-Series: Composite Materials for High Load Solutions. These are special carbon fibre reinforced composite materials [Ketron® CC PEEK, Duratron® CC PEI, Techtron® CC PPS and Kyron® MAX], available in various thicknesses and geometries, offering endless design opportunities to engineers."
These materials achieve metal like mechanical characteristics by offering all advantages of thermoplastic polymers like corrosion resistance and recyclability.
Quadrant's materials are accredited to the most important globally stringent certifications and approvals, such as AS9100C, ISO 9001, ISO 14001, OEM approvals and JAR/FAR 25.853. In addition, Quadrant combines extensive engineering expertise and in-depth application knowledge across a wide range of components in bearing, wear and gear functions for key aircraft sub-assemblies, including interiors, propulsion, systems and structures.
Johänning emphasizes: "Aerospace is a strategic market for Quadrant. We have been successfully supplying solutions to this industry for over 40 years. By focusing on constant innovation we keep pace with the developments and requirements of this evolving and dynamic global market. The Farnborough Air Show offers a great opportunity to demonstrate how our innovations not only increase safety and reliability in aerospace engineering, but also productivity through the replacement of metals in various applications."
To find out more about Quadrant Engineering Plastic Products, visit http://www.quadrantplastics.com.
About Quadrant EPP
Quadrant Engineering Plastic Products (Quadrant EPP) is the world's leading manufacturer of semi-finished products. Quadrant EPP's materials range from UHMW polyethylene, nylon and acetal to ultra-high performance polymers that resist temperatures to over 425°C. The company's rods, sheets, tubes and custom shapes are among others used to machine components for the semiconductor manufacturing, aerospace, electronics, chemical processing and various other industries. Quadrant EPP also manufactures finished products for these industries. Products and services are available through a worldwide network of branch offices, technical support centres and authorized dealers. Learn more about Quadrant EPP at http://www.quadrantplastics.com.
About the Quadrant group
Quadrant is a leading global manufacturer of high-performance thermoplastic materials in the form of semifinished products and finished parts. The company has locations in 20 countries and more than 2 000 employees. Its specialty engineering thermoplastics and composites are superior in performance to metals and other materials and are used in a wide range of applications, primarily in the capital goods industry. Together with leaders in a broad variety of customer markets, Quadrant is continuously developing new areas of application. With its new owner Mitsubishi Plastics, Inc., Quadrant is well prepared to expand its market leadership position in the future.
Nylatron®, is a registered trademark of the Quadrant Group.
For further press information, please contact:
Petra Brinkmann, Quadrant EPP Deutschland GmbH
Petra(dot)brinkmann(at)qplas(dot)com