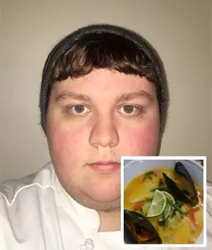 I want to keep learning things that my family will not go near and would make seventeen year old me amazed
Suffern, NY (PRWEB) July 07, 2016
TigerChef.com, leading online supplier of restaurant equipment and catering supplies, has just announced the winner of its May 2016 Scholarship. The winner is culinary student Joseph Hartman, currently enrolled in SUNY Cobleskill in Cobleskill, NY.
Applicants were tasked with writing an essay detailing what inspired them to choose an educational path in the food industry. Joseph's essay was touching and personal.
"It had heart," said Jay Stefans, CEO of TigerChef.com. "Joseph discussed the financial hardships he has in fulfilling his dream of becoming a culinary graduate, and that made me just want to help him!"
Joseph's family was very simple when it came to food. He started out as a pre-med student, being that he loved science and wanted to become a doctor. As he started the process in a community college, he realized that he just wasn't happy. He started watching the food network and other food shows and realized that he had found his calling.
"I want to keep learning things that my family will not go near and would make seventeen year old me amazed," says Joseph in his essay. After a difficult decision, he switched to a state college, at a great expense, in order to fulfill his dream.
For more information on the TigerChef.com scholarship and to submit an application for the November 2016 scholarship, please visit https://www.tigerchef.com/scholarship.php
About TigerChef.com
Restaurateurs and professional chefs value TigerChef as a full-service source for over 200,000 products. TigerChef takes pride in serving their customers from start to finish. They don't just sell products; they use their knowledge to help their customers craft their industrial kitchens into ideal workspaces. TigerChef staff serve as consultants regarding the products that they sell and even assist with kitchen design. They work with hotel chains, restaurants, and other commercial facilities. For more information about TigerChef products call 877-928-4437 or visit https://www.tigerchef.com.