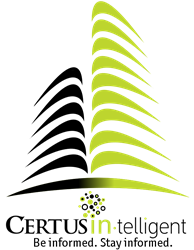 "By keeping residents better informed, community managers can help to keep them safer and happier, and significantly improve the quality of their lives."
Chicago, Illinois (PRWEB) July 06, 2016
Communications startup In-telligent announced today that they have joined forces with CERTUS Real Estate Solutions, adding the power of the In-telligent platform to the already robust suite of helpful technologies offered by CERTUS that are transforming the business of property management.
CERTUS is a technology-based services company that provides a range of innovative solutions to all segments of the multifamily, commercial, corporate and government real estate markets.The In-telligent platform allows community managers to deliver targeted, timely, enhanced messaging to followers in geographically designated areas through auto-enrollment, providing residents with an unprecedented level of connectivity, heightened awareness and enhanced safety.
"In-telligent complements our existing solutions by giving property managers a better way to communicate with residents," said Matt Miller, principal for CERTUS Real Estate Solutions. "By keeping residents better informed, community managers can help to keep them safer, happier and significantly improve the quality of their lives. This new level of connectivity will translate into a deeper identification with the property, and a stronger bond between the resident and the community."
In-telligent community administrators can transmit important, potentially life-saving updates through In-telligent's communication portal from anywhere, at any time and on any device. This allows administrators to communicate with certainty, in real-time, with large residential communities. The In-telligent app features an easy-to-use interface that combines Life Safety Alerts, timely announcements and targeted information surrounding issues of interest to the resident's specific community. Residents also have the ability to send their own news, updates and event alerts to the property manager to keep them informed, further adding to the community's enhanced awareness.
"The world we live in is one of higher expenses and lower margins," said Allen Miller, managing principal of CERTUS. "Clear, high-quality communication increases the overall contentment of residents, and having happier, more informed residents means managers spend less time and money marketing to new potential residents. In-telligent allows community managers to have command of the conversation with residents without being intrusive."
In-telligent Founder and CEO Allan Sutherland sees this new alliance with CERTUS Real Estate Solutions as a natural fit for both companies, and a boon for the property managers that will benefit from it.
"CERTUS Real Estate Solutions is an incredibly dynamic company," said CEO Allan Sutherland.
"We're proud to offer the In-telligent platform and app to managers of real estate communities alongside CERTUS' other invaluable tools and services."
In-telligent allows residents and their loved ones to receive messages and monitor the status of their communities whether they are physically present in them or not, to ensure they are up-to-date while they are away. In the case of an emergency, the building manager can use the In-telligent platform to issue a Life Safety Alert that has the ability to override the notification settings on a user's device, ensuring urgent messages are noticed in real-time. Simply having the platform in place allows residents, employees and visitors to be better informed, safer and less anxious. The app and platform are available free of charge for both end-users and administrators.
"Multifamily properties have to embrace the future to effectively court Millennials as well as keeping up with the ever-growing expectations of Baby Boomers," said Mike Composono, Principal at CERTUS. "Residents are going to want the functionality and peace of mind that comes with the In-telligent platform, they're going to expect it, and the smart community managers are the ones that are going to provide it."
The In-telligent app is available as a free download for both Android and iOS powered devices. Visit http://www.in-telligent.com to find out how to become a part of an In-telligent community.
###
About In-telligent
In-telligent is a communications technology company dedicated to giving peace of mind to users by enabling them to be better informed, have greater awareness, and become more deeply engaged in their communities. Safety and performance are best-in-class, powered by Amazon Web Services, Apple, and Google. The In-telligent mobile application is compatible with both Android and iOS powered devices. With unprecedented functionality, and remarkable ease of use, the In-telligent platform builds awareness in a way that strengthens trust, heightens safety, saves money, captures real-time market data to enhance your understanding of your audience, and drives revenue. In the case of an emergency, the In-telligent platform and mobile application working together ensure that your community will be alerted immediately – irrespective of the notification settings on their device – because safety is critical.
About CERTUS Real Estate Solutions
CERTUS Real Estate Solutions provides a sophisticated suite of real estate solutions that enhances every aspect of the owner, manager, and resident experience. The value-driven offering includes CERTUS Utility Solutions, ResGuard by CERTUS Risk Solutions, ValencePM, CERTUSRewards powered by INCENTCO, and Telecom Network Solutions. These brands also offer premium packages that add utility billing, expense management, metering, renter's insurance, security deposit alternatives, ValencePM, ValenceDocs, ValenceWeb, resident and employee loyalty incentive programs, and other advanced technology solutions. For more information about CERTUS Real Estate Solutions please contact Matt Miller at 702-768-4173 or mmiller(at)certusres(dot)com.