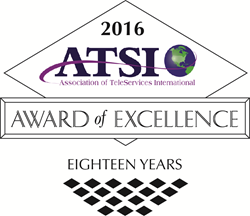 As the most prestigious customer service award in our industry, we are honored.
Dallas, TX (PRWEB) July 06, 2016
ABA's Dallas answering service and call center office has won the award 18 consecutive years, while the Houston office has won for 14 consecutive years and the Fort Worth office for 13 consecutive years.
"As the most prestigious customer service award in our industry, we are honored," said Dee Hawkins, Owner and CEO of A Better Answer. "Once again, we're very grateful to the super team of call handling heroes at ABA!"
Independent judges were contracted by ATSI to evaluate message services over a six-month period. The scoring criteria includes:

Response Time
Courteousness of Rep
Accuracy of Call
Knowledge of Account
Overall Impression of Call
As an eighteen-time winner, A Better Answer qualified for the Diamond Plus Award. ATSI extended its congratulations to the staff of A Better Answer on its proven quality service to their customers:
"The ATSI Award of Excellence Program recognizes that excellence requires a level of service that considers the caller first in every aspect of the call. The award is earned by a company by judging the handling of calls placed by mystery callers against specific, member-driven criteria," said ATSI President Jeffrey W. Zindel. "Companies (like ABA) that earn this award are continuously focusing on delivering first class service to their customers. It is truly an honor!"
About ABA:
A Better Answer® has been an industry-leading call center since 1971. The company offers a wide variety of answering services for almost every type of business and industry, from law firms and small businesses to restaurants and HVAC companies.