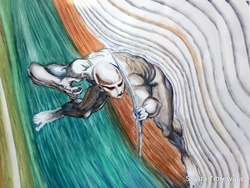 What you are capable of achieving is in the mind, not the body
Cupertino, California (PRWEB) July 07, 2016
Sujata Tibrewala tries to underline the fallacy male machismo is being reduced to through her Temple series of work on display at LFA, Chicago. The artist is trying to show that it's not just the ideals of feminine beauty that are getting unrealistic, but masculinity too is getting caught in the web of vanity.
Tibrewala turns her attention to this self-pleasing world of male ego through a painting titled Temple 3. The work depicts a perfectly chiseled, six pack flaunting male posture in an agile, athletic form. The artist wishes to draw attention to the fact that fitness is increasingly getting associated with flawed ideas of perfection. She feels that the modern day obsession with a perfect body has led to a sense of narcissism to seep into the new generation of men. The men are going to extreme limits to ensure that their bodies match the idealism propagated on television and social media. So if women are considering drastic surgical measures in lure of perfect bosoms or washboard abs, there are also men who are resorting to addictions and steroids to get that chiseled frame.
The artist takes a studied look at the problem and how it is manifesting itself across continents. If in India it is the Bollywood's fascination with six-packs and the constant endorsement by Indian superstars such as Salman Khan and Shah Rukh Khan; in the US it is the body building craze that is reaching dangerous proportions. Health practitioners have warned that youngsters resorting to steroids and body enhancing drugs signal a dangerous trend. What started with the rise of icons such as Arnold Schwarzenegger and Sylvestor Stallone has led to a generation of young men, mindlessly trying to copy the look, forgoing other elements of well-being. Experts have started showing concern over treatments such as man - botox and liposuction for men that are frighteningly being over used. Tibrewala tries to invoke the idea in young men that their bodies are capable of achieving everything they set their mind on.
Almost cheekily, in a characteristic feminist style, Tibrewala contrasts the chiseled male body with another painting of a woman, inspired by herself, in a far from 'perfect' body. The 'imperfect' female form celebrates strength without being defined by ideals of beauty.
The artist was inspired by the story of Gautam Buddha, while working on this idea. Buddha who was born as Prince Siddhartha, moved by the sufferings of people set out on a mission to gain enlightenment. He suffered great hardships and in a bid to find knowledge starved his body. But after six years of searching, he realized that just wearing down his body would not give him new insights. So he left the self-destructive means, began feeding his body well and sat down beneath a tree in quest of truth and gained enlightenment. The moral being no one achieves anything by abusing their bodies, what matters instead is to take control of lives in a spiritually stronger way.
About the artist:
Sujata Tibrewala, a self-taught artist come engineer remarkably embodies the indomitable spirit of human existence through her works. Her works, center around the theme of eco-feminism. She has exhibited her artworks in some of the most reputed venues around the globe such as University of Illinois, Chicago, Raw San Jose, Parallax Art Fair London, the Regional Commission of Arts St Louis, Life Force Arts Chicago, Mindworks Gallery Chesterfield, St. Louis Artists' Guild, Chesterfield Arts, Art World Association, Women's Caucus for the Arts, MySLART and Lalit Kala Academy, Delhi. She moved to the USA in 2010 from India and practices her art form at the Bay Area, CA, where she resides presently.