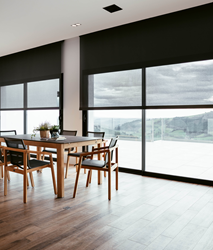 The perfect compromise between visual and thermal comfort.
Pompano Beach, Florida (PRWEB) July 07, 2016
The much anticipated Serge Ferrari Soltis® 88, previewed at the IFAI Show in Anaheim last October, is now available in North America and sold direct to manufacturers of exterior and interior screens, awnings, retractables, pergolas and boatbuilders.
Serge Ferrari Soltis 88 is a dimensionally stable, lightweight and durable screen material that is 8% open for a perfect compromise between visual and thermal comfort: light is filtered and heat partially blocked while outward visibility is maintained. An even weave pattern and attractive textured appearance enables an undistorted view through. Soltis 88 is available in 17 colors that coordinate with other Soltis ranges, and in wide widths for a selection of colors for seamless designs.
Manufactured with Serge Ferrari's patented Precontraint® technology, Soltis 88 provides the same durability and performance customers have come to expect from the Soltis range, including excellent weather, UV and mold resistance. Woven with high tenacity polyester yarns and pre-tensioned prior to applying an acrylic topcoat, Soltis 88 will not tear or elongate and is easy to clean and maintain (no re-tensioning). Soltis 88 is GreenGuard certified for indoor air quality and 100% recyclable with Serge Ferrari's Texyloop program.
Developed in response to customer feedback, Soltis 88, with its openness factor of 8%, completes Serge Ferrari's Soltis package, providing an additional even-weave option that is between the existing 14% openness of Soltis 86 and the 4% openness of Soltis 92 to meet client needs and design tastes. The Soltis range also includes Soltis 99 (3% open) and Soltis Blackout.
Sold through the Serge Ferrari North America office located in Pompano Beach, Florida, Soltis 88 is available in two standard roll widths (69.7 inches and 105.1 inches) and two standard roll lengths (54.68 yards and 43.74 yards). Short rolls are available with a nominal cut charge.
About Serge Ferrari
Serge Ferrari is a leading manufacturer of flexible composite membranes used globally for the solar protection, marine, architectural, building facade, acoustics, modular structure, furniture and visual communication markets. For the last 40 years, Serge Ferrari has paved the way for sustainable construction, energy control, protection and renewal of natural resources and design through its cutting edge technology, including its patented Precontraint® technology that ensures exceptional long term durability through dimensional stability, and Texyloop®, its exclusive recycling program. Serge Ferrari North America is based in Pompano Beach, Florida and handles sales and service of Serge Ferrari products in the United States, Canada, Mexico and the Caribbean. For more information visit the company's website: http://www.sergeferrari.com.
###