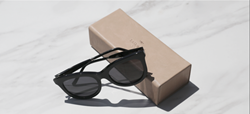 It's clear that there's a market for a quality alternative to the overpriced eyewear brands,
Los Angeles, CA (PRWEB) July 06, 2016
Designer eyewear brand L'appel has reached their $50,000 goal on Kickstarter for their quality and affordable sunglasses line that's an alternative to overpriced eyewear.
L'appel's sunglasses set themselves apart, and that trend has continued with its crowdfunding campaign surpassing the 100% funded mark with over 350 backers who've found high quality and function back to everyday eyewear.
"It's clear that there's a market for a quality alternative to the overpriced eyewear brands," said Joe Ko, President of L'appel Eyewear. "We'd like to thank all of our backers who share our vision for their support."
In French, L'appel means 'the call.' L'appel's launch is part of a movement responding to unprecedented consumer demand for a balance between luxury and practicality.
L'appel sources raw materials from the best providers around the globe, trust world-class eyewear experts to handcraft each pair, and offer only the best in lens selections.
These high-grade materials come together to create perfectly balanced frames, durable but light on the face. It takes 20 steps to handcraft a single L'appel frame, and they are designed and crafted with a meticulous attention to proportions, shape, and fit.
"We believe people work hard for their money, and deserve more than what the eyewear industry is currently giving them," added Ko. "Our goal is to supply consumers with premium products and a strong value proposition."
The Fall 2016 collection will feature 30 styles and colors that reflect every personality for both men and women. L'appel frames are ready-to-ship and match the quality of the highest-grade products on the market.
They are currently available for pre-order on Kickstarter until July 22 with early bird pricing starting at just $89. For more information, please visit: https://www.kickstarter.com/projects/lappel-eyewear/lappel-together-we-will-see-eyewear-differently
About L'appel
L'appel makes beautiful products for the everyday. We backed away from narcissistic brand-
consciousness and overpriced status symbols to provide fine eyewear that displays your style, not our name. We sought a balance of quality and function to bring you maximum value in every pair. Each frame is crafted with both subtlety and expression in mind, striving for just the right amount of flair, just the right amount of simplicity —just the right amount of L'appel.