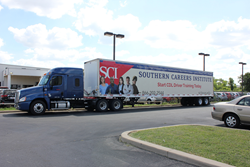 We wanted to provide a program which allows students to continue to earn a living while gaining the skills needed for a career change.
Austin, TX (PRWEB) July 06, 2016
Corpus Christi is getting ready to hit the road as Southern Careers Institute (SCI) is launching a new Commercial Motor Vehicle Operator program (CMVO) this summer.
The CMVO program provides engaging classroom content, interactive online learning as well as over-the-road driving experiences. Designed as a self-paced program, students are provided a unique freedom to schedule class time and driving training as their schedule allows.
"We wanted to provide a program which allows students to continue to earn a living while gaining the skills needed for a career change," stated Matthew Hawes, Chief Operations Officer of Southern Careers Institute. "Students who are determined may complete the course in as little as 4 weeks."
Throughout the course, students gain complete understanding of rules, regulations and safety measures required of intrastate and interstate driving, plus they become proficient drivers by practicing basic and advanced maneuvers with a standard tractor and 53-foot trailer.
"The CMVO truck driving program is adding more options for job training in the Corpus Christi community," said Jacob Mayhew, CEO of Southern Careers Institute. "SCI's focus is engineering programs that meet employers' needs, and we believe this new program will allow students to gain the knowledge necessary to take the Commercial Driver's License Class A exam as well as be job ready."
Passing the CDL Class A exam qualifies drivers to become a professional truck driver and allows them to operate commercial vehicles for both intrastate and interstate transportation.
SCI's Commercial Motor Vehicle Operator program is enrolling now for classes beginning July 11, 2016.
Members of the media, and anyone interested in learning more about this new program, are welcome to attend the Commercial Motor Vehicle Operator Open House Reception and Orientation on Wednesday, July 20, 2016 from 4:30pm – 6:30pm at SCI's Corpus Christi campus. RSVP: http://goo.gl/Nqjh4X
Southern Careers Institute
Corpus Christi Campus
2422 Airline Road
Corpus Christi, TX 78414
For more information on Southern Careers Institute's Commercial Motor Vehicle Operator program, other programs or campuses, please visit http://www.scitexas.edu or connect with Southern Careers Institute on Facebook and Twitter.
About Southern Careers Institute
Southern Careers Institute was founded in 1960 in Austin, TX. Since opening its doors, SCI has expanded its facilities to include seven campuses located in Austin, Brownsville, Corpus Christi, Harlingen, Pharr, San Antonio (North Campus), and San Antonio (South Campus) plus virtual courses offered online. SCI has offered medical and business programs since 1992, and today, SCI offers a variety of programs in the fields of medical, pharmacy, business, technology and trades.
All career training programs at Southern Careers Institute are taught by knowledgeable instructors who care about each individual student's success. A supportive, interactive learning environment is maintained at all our campuses, which allows students to learn by doing. Each program focuses on the skills needed upon entering the workforce, so students are not focusing on things that will never be used in the real world.
Southern Careers Institute has also developed a laser focus on making students more marketable with customized and employer tailored programs. We call our approach The SCI Edge, and it makes our students as competitive as those of any accredited colleges or technical schools in Texas.
For more information, contact:
Adrian De La Garza, Executive Director of Marketing and Analytics
Southern Careers Institute
512-437-7543
adrian.delagarza(at)scitexas(dot)edu
http://www.scitexas.edu/
Logo - http://scitexas.edu/wp-content/uploads/2015/05/logowhitebg2.jpg
SOURCE Southern Careers Institute