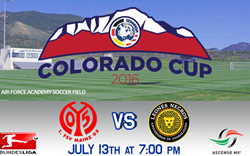 "We are thrilled to have German Bundesliga Team Mainz 05 play two games in this exciting tournament and offer training camps to not only local youth but 32-sponsored kids coming in from Mexico as well" - Des Hague
Denver, CO (PRWEB) July 07, 2016
Local prominent business leader and philanthropist, Des Hague, is a huge soccer fan and when he was first approached by Justin J. Rose, Owner of Germany's JJR Consulting GmbH and Founder of FUNDING ONE'S FREEDOM, a couple of months ago with regard to becoming one of the sponsors of the first annual Colorado Cup 2016, he quickly agreed. Little did they know just how much this event would grow in such a short period of time and what delight the upcoming events would bring to local residents. One such resident is retired deli worker Siegrid Hartman, an avid soccer fan, who moved to Colorado Springs from Mainz (Germany) over 50 years ago.
"When my childhood friend from Germany called me a couple of weeks ago to let me know that Bundesliga Team Mainz 05 will be coming to Colorado Springs to play two games and coach local kids I could at first not believe it," said Hartman. "Soccer is very popular all over the world but less so here in the US and I am on cloud 9 that the team from my hometown in the old country is coming over to coach local kids and help promote this wonderful sport."
Mainz 05 will take on the Colorado Springs Switchbacks at 7 p.m. Tuesday at Switchbacks Stadium. Mainz 05 plays the Mexican club Leones Negros at 7 p.m for the Colorado Cup 2016 - Fueled by Froozer® - July 13 at the Air Force's soccer stadium. Festivities including a 'Celebration of Soccer Week' July 11-15 will be part of the international soccer event. Throughout the 'Celebration of Soccer Week,' Mainz 05 players and coaching staff will hold youth soccer camps in Colorado Springs and Vail. For more information and to buy event tickets, go to ColoradoCup2016.com. There is still room in the youth camps for interested players and sponsors are still needed for some kids.
"I will be at both games, of course," stated Hartman. "It's wonderful that through the generosity of people like Mr Hague, this event has been made possible and so many kids are able to participate and get to see how Germans play the most popular sport in the world," Hartman concluded.
While she does not own any Mainz 05 apparel, she is planning on wearing the team colors red and white.
"We are thrilled to have German Bundesliga Team Mainz 05 play two games in this exciting tournament and offer training camps to not only local youth but 32-sponsored kids coming in from Guadalajara, Mexico as well," stated Hague, Co-Founder of Hague Enterprises, Chairman of the Board and CEO of Froozer® and Partner of WC&P, all local CO/Denver-based businesses.
Froozer®, a frozen snack bar brand based out of Denver, CO has committed to providing samples during clinics for the kids, sponsor kids in need to participate in pro-run clinics, and make event tickets available for folks who would like to participate but may not have the means. "We are still looking for sponsors to come on board and help us help these kids realize their dreams," said Hague.
Those businesses and individuals looking to help can sponsor a child for $400 to partake in the amazing opportunity of being trained by Mainz 05's professional coaches. For more information on how to get involved, please visit http://www.coloradocup2016.com.
"It's a very special feeling bringing international soccer and our "Celebration of Soccer Week" to Colorado... a place where I was born and raised," said Rose before continuing. "Giving back to Colorado soccer which did so much for myself and many others growing up is a dream come true!"
FUNDING ONE'S FREEDOM is a for-profit, social enterprise which partners with businesses and people to raise funds needed to inspire the youth by instilling F.R.E.E.D.O.M. from within. Proceeds from events like the Colorado Cup 2016 go towards FUNDING ONE'S FREEDOM. The Colorado Cup 2016 will provide money to various soccer associations and clubs for their development and help sponsor youth soccer camps and international exchange programs. FUNDING ONE'S FREEDOM has helped foreign exchange students, youth soccer teams and individual soccer players and will continue to provide future funding for children and people striving for F.R.E.E.D.O.M. (Fitness, Responsibility, Education, Experience, Determination, Opportunity and Mindset). (http://www.fundingonesfreedom.com/).
CONTACT INFORMATION for FUNDING ONE'S FREEDOM:
Justin Rose - US CELL: 720-397-9597 INTERNATIONAL: +49 (0)162 345 30 63
justin(at)jjrconsulting(dot)de
About Des Hague
A renowned executive with over twenty-five years of leading global public and private companies, Hague has established himself as an innovative thinker in the international business world. His forward-thinking approach pushes companies toward sustainable growth, granting them a position as resilient competitors within their respective industries. His past positions include President of Safeway Inc., President of IHOP, President of Hot Stuff Foods LLC, Vice President of 7-Eleven Inc. and, most recently, President/CEO of CenterPlate Inc., the largest event hospitality company in North America. Hague is also the Co-Founder of Hague Enterprises, a Colorado-based advisory and investment company, focused in multiple sectors. In addition, Hague serves on the boards of DVETelepresence, PING HD, WC&P, Lessons For Life, World of Beer, Halls Cheese, Serenity Spa and Salon and the Stamford Youth Foundation along with advising on several start-up ventures.
Along with his professional projects, Hague contributes significant amount of time and energy to non-profit charitable work. Hague has helped raise more than $100 million over the past few years for many non-profits, including the Stamford Youth Foundation, a local organization offering multiple after-school programs for young people, and The Journey Home, a Baltimore-based Foundation fighting homelessness. Hague views Aegis Enterprises, LLC as a perfect blending of business and philanthropic activities.
For more about Des Hague, visit: http://deshague.com
Des Hague - LinkedIn
CONTACT INFORMATION
DesHague.com
deshague(at)aegisenterprisesllc(dot)com