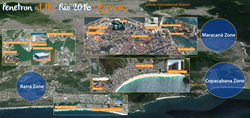 PENETRON is proud to add Rio 2016 to the growing list of remarkable Olympic venues we've helped create.
East Setauket, New York (PRWEB) August 04, 2016
From Guanabara Bay to the upper seats of the Maracanã stadium, PENETRON technology stands behind much of the new infrastructure built for the 2016 Olympics in Rio de Janeiro, Brazil, opening Friday, August 5th. PENETRON crystalline waterproofing technology is a proven solution for concrete structures in adverse environments.
Officially titled the Games of the XXXI Olympiad, the Rio 2016 Olympics brings together 206 participating countries to compete in 306 events across 42 sports at 37 venues in and around Rio de Janeiro. The prospect of the Rio 2016 Olympics unleashed a decade-long construction effort to expand local infrastructure for the half-million tourists expected to show up during 16 days this month.
Robert Revera, CEO & President of The PENETRON Group, has closely followed the progress in Rio. "Thanks to PENETRON Brazil, we're a big part of a monumental construction effort in and around Rio de Janeiro. It's a testament to the effectiveness of PENETRON crystalline technology."
SHOWCASE PROJECTS
"After the success of the FIFA World Cup two years ago, our Olympic Games this summer will be a further showcase to the world for Brazil," adds Cláudio Neves Ourives, General Director of PENETRON Brazil. "And for PENETRON technology!"
Brazil has unveiled many individual projects over the past year. Below is an overview of the projects completed in time for the Olympics that feature PENETRON crystalline technology.
Olympic Park:
With the seaside locations, PENETRON technology found wide usage in the Olympic Aquatic Park (stadium for swimming and water polo events), the Olympic Park Media Center (press and broadcasting center), the Passeio Olimpíco (covered boardwalk in the Olympic Park), and the Ilha Pura Olympic Village (complex of 31 residential buildings).
Public Infrastructure:
An event such as the Summer Olympics provided a key impetus for immense Federal programs to revitalize distressed urban areas and upgrade Rio's public infrastructure. Renewal projects included transformation of the Maravilha Port (​​5 square km/2 square miles), Porto 2016 Gamboa (with 1,333 apartments and 33 retail stores), and the Porto Atlântico (seven towers on two adjacent lots). PENETRON crystalline materials were used in subterranean concrete structures for the new Line 4 of the Rio Metro (16 km/10 miles long), the Rio Light Rail Line (28 stops), Túnel Rio 450 (1,480 m/4,860 feet long), the Copa Star Hospital (below-grade structures), the Rio Expressway Tunnel (3,610 meters/2¼ miles long), and the Galeão International Airport (expanded terminals, connecting bridges and parking).
Culture and Hospitality:
Beachside locations for both the Museum of Tomorrow (Santiago Calatrava designed, 15,000 m2 /162,000 square feet) and the Aquário Marinho (4.5 million liters / 1.19 million gallons of salt water) were ideal for PENETRON ADMIX applications. The booming hotel market, including the Arena Leme Hotel (149-rooms), the Hilton Hotel Barra Rio (298-rooms), the Trump Hotel Rio de Janeiro (170-rooms), and the Hotel Grand Hyatt (436-rooms) all specified PENETRON technology to ensure durable concrete foundation and pool structures.
"PENETRON is proud to add Rio 2016 to the growing list of remarkable Olympic venues we've helped create," adds Mr. Revera.
The PENETRON Group is a leading manufacturer of specialty construction products for concrete waterproofing, concrete repairs and floor preparation systems. The Group operates through a global network, offering support to the design and construction community through its regional offices, representatives and distribution channels.
For more information on PENETRON waterproofing solutions, please visit penetron(dot)com or Facebook(dot)com/ThePenetronGroup, email CRDept(at)penetron(dot)com, or contact the Corporate Relations Department at 631-941-9700.