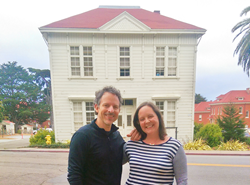 "We're building a design team that's a unique blend of deep industry experience and youthful enthusiasm."
San Francisco, California (PRWEB) July 07, 2016
Long-time DDW design directors, Tom Davidson and Meegan Peery have been promoted to Associate Creative Director, reporting to Ross Patrick, DDW Executive Creative Director. "We've promoted Tom and Meegan in recognition of their incredible creativity, but also because we're growing and they've proven their ability to lead," says Patrick.
Patrick also announced the addition of three recent graduates from the Academy of Art University to the DDW design team. Zachary Charters and Melissa Genao interned at DDW last year and have now been brought on full-time. Sebastian Fraye, also from the graduating class of 2015, joins DDW via Anthem Design, San Francisco.
"We are building a design team here that's an incredible blend of deep industry experience and youthful enthusiasm," says Mike Goefft, DDW Managing Director. "I'm super excited about the talent we have in this building – from some of the most experienced designers in our industry who've crafted packaging for brands like Budweiser and Campbell's, to Millennial designers who really get 21st Century consumers."
About DDW
DDW is a San Francisco based design firm with nearly 20+ years experience helping clients create deep brand stories and fresh brand design. Current clients include Anheuser-Busch, Alcatel, Big Heart Pet Brands, Campbell's, Sprint, Seattle's Best Coffee, The Men's Wearhouse, and The Non-GMO Project and several other undisclosed assignments.