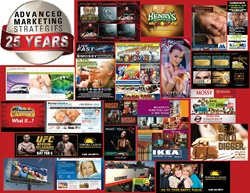 San Diego, CA (PRWEB) July 06, 2016
This local advertising agency has been responsible for some of San Diego's most memorable marketing; including campaigns for clients like IKEA, Mossy Automotive, Henry's Market Place, McMillin Homes, Bekins Moving and Storage, San Diego County Credit Union, Soboba Casino and many others! And now they're celebrating their 25th year in business here in San Diego.
Kathleen Cunningham, Founder and President of AM Strategies says, "Here at Advanced Marketing Strategies, we see things differently. Maybe it's because we look harder to uncover the opportunities nobody else can find. In this world of programmatic automation, templates, and plug-ins, we take the time to hand-craft your marketing plan. We also believe in staying ahead of the curve; my personal mission is to keep the agency on the cutting edge of technology, and our team is very adept at using every tool available. The combination of fine details, personal attention, and advanced technology, gives our clients the advantage they need to stay on top."
AM Strategies clients sing their praises as well. Scott Sirois, Soboba Casino GM says, "We are obviously ecstatic about our revenue growth. AMS took over control of the ads; we got serious traction and haven't looked back. The AMS staff are professionals that know their field and are dedicated to their client's satisfaction; they are creative, energetic, and their work ethics are exemplary. AMS and their employees are detail oriented and can be depended upon to finish what they start."
One of those employees, Executive Creative Director, Michele Marlo has been with AM Strategies for almost 11 years. Her past experience includes leading national brands such as La-Z-Boy, HGTV, The Detroit Zoo, Lexmark, OnStar, Helzberg Diamonds, The May Company, Minute Maid, Buick's Tiger Woods campaign, General Motors, and Blockbuster Video. She is proud of the strategy that comes out of the agency and says, "We don't believe in cookie-cutter solutions or templates because we know that doesn't connect with people or maximize profits. We take pride in our craft and set standards for others to follow."
Utahna Hadden, Vice President Account Services, has dedicated over 15 years to superior client services at Advanced Marketing Strategies and she says, "We formulate personalized plans and offer support teams dedicated to your business. Unlike specialized marketing companies, we have expertise in every form of media, from old-school to latest innovations, and most importantly, we understand how it all works together for top performance"
Mark Stevens, AM Strategies Media Director, says, "I've never seen anything like it in my many years of buying national and local media; the unique and proprietary buying system, AM Strategies owns, allows me to uncover opportunities other buyers just can't see. And buying both traditional and digital media frees me up to customize and recommend the media mix that is just right for each the client."
It's easy to see why their longest client, Peter Mossy, Mossy Automotive says, "We were lucky enough in the early nineties, to have found AM Strategies. Their team came in and put together a plan that made us the number one Nissan store in the nation. It was through their combination of marketing and demographic skills that put that plan together for us. It was AM Strategies that put together the branding campaign that put Mossy out into the public community that has made us very successful. I would say that you are lucky to get these folks if you can get them."
Advanced Marketing Strategies has provided over 25 years of strategy based, result-oriented marketing solutions that have increased traffic, sales, and profits for their clients and are looking forward to many more years in San Diego.
For new business inquires, please contact Kathleen Cunningham at kcunningham(at)am-strategies(dot)com or call (858) 490-6910