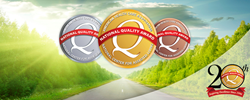 This is a well-deserved recognition for our members who provide the highest level of quality care to the residents and patients they serve every day.
Indianapolis, Indiana (PRWEB) July 07, 2016
The Indiana Health Care Association/Indiana Center for Assisted Living (IHCA/INCAL) is pleased to congratulate 19 member centers across the state on receiving 2016 Silver and Bronze National Quality Awards.
The American Health Care Health Care/National Center for Assisted Living (AHCA/NCAL) National Quality Award Program honors long term and post-acute care providers that have demonstrated their commitment to improving the quality of care for seniors and persons with disabilities. Based on the core values and criteria of the Baldrige Performance Excellence Program, the AHCA/NCAL National Quality Award Program challenges member providers to achieve performance excellence through three progressive levels—Bronze, Silver, and Gold.
Kindred Transitional Care and Rehab - Valley View in Elkhart, Indiana was one of 71 care centers nationwide to receive a 2016 Silver – Achievement in Quality Award. At the Silver level, members develop and demonstrate effective approaches that help improve performance and health care outcomes.
Bronze recipients have demonstrated their ability to implement a performance improvement system. The following 18 Indiana care centers received the 2016 Bronze - Commitment to Quality Award:
Heritage House Rehab & Healthcare Center, Connersville
Adams Woodcrest, Decatur
Glenbrook Rehabilitation and Skilled Nursing, Fort Wayne
New Harmonie Healthcare Center, New Harmony
North Woods Village, Kokomo
Ashton Creek Health & Rehabilitation, Fort Wayne
Adams Heritage, Monroeville
Mason Health and Rehabilitation, Warsaw
Wesleyan Health & Rehab, Marion
Rolling Meadows Health and Rehab, La Fontaine
Englewood Health and Rehabilitation Center, Fort Wayne
Ossian Health and Rehabilitation, Ossian
Maple Park Village, Westfield
Hillcrest Village, Jeffersonville
Greenwood Meadows, Greenwood
Waters of Covington, Covington
Countryside Meadows, Avon
Green Valley Care Center, New Albany
"The quality of care and quality of life in Indiana nursing centers continues to improve because of dedicated providers like this year's recipients," said IHCA/INCAL President Zach Cattell. "This is a well-deserved recognition for our members who provide the highest level of quality care to the residents and patients they serve every day. I applaud them for this recognition."
AHCA/NCAL will announce the 2016 Gold – Excellence in Quality Award recipients later this summer.
For additional information about the National Quality Awards Program and the 2016 Indiana recipients, contact Kate Vaulter, Director of Public Affairs, at kvaulter(at)ihca(dot)org or 317-616-9002.
-About IHCA/INCAL-
IHCA/INCAL is the state's largest trade association and advocacy group representing for-profit and not-for-profit nursing homes, as well as assisted living communities and Independent Living. The association provides education, information, and advocacy for health care providers, consumers, and the workforce on behalf of its more than 350 members. For more information about the association, please visit. http://www.ihca.org.
-About AHCA/NCAL-
AHCA/NCAL represents more than 13,000 non-profit and proprietary skilled nursing centers, assisted living communities, sub-acute centers and homes for individuals with intellectual and developmental disabilities. By delivering solutions for quality care, AHCA/NCAL aims to improve the lives of the millions of frail, elderly and individuals with disabilities who receive long term or post-acute care in our member facilities each day. For more information, please visit http://www.ahca.org or http://www.ncal.org.