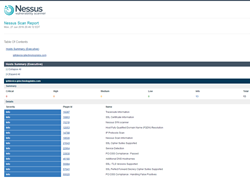 Security is more than just protecting data, it's the system and the process.
Baltimore, MD (PRWEB) July 06, 2016
IP Technology Labs, the leading provider of 4th Generation VPN connectivity, WAN/SD-WAN, and IoT secure networking appliances, today announces that it has been independently verified to pass all PCI DSS 3.2 elements without indicating any vulnerabilities.
The Payment Card Industry ("PCI") Standards Council sets forth the Data Security Standards ("DSS") for all entities involved in payment card processing. Recognizing the increase in threats, breaches, and exploits compliance with the PCI DSS helps to alleviate these vulnerabilities and protect cardholder data. PCI DSS 3.2 compliance is required for merchants, devices, and applications within the Cardholder Data Environment ("CDE") for payment processing. PCI DSS 3.2 updates and obsoletes version 3.1 and takes effect in October, 2016.
"Security is more than just protecting data." said Scott Whittle, President of IP Technology Labs. "IpTL has always led with the system in mind. With zero security vulnerabilities, our customers can deploy and audit to PCI 3.2 DSS levels with confidence. As always, we have consistently lead the industry with the best connectivity, privacy, and security. Now, confirmation from an independent lab assessment continues to strengthen what our customers already know and trust."
One significant PCI DSS 3.2 update is the requirement to move towards better security for data-in-transit protocol standards. IpTL has had TLSv1.2 in all its appliances since it was available and has never used vulnerable SSL. Using Tenable's Nessus™ vulnerability scanner shows that IpTL has zero critical, high, medium, or low vulnerabilities for PCI DSS 3.2 elements. A copy of the report is available upon request at IpTL's website.
As the World's Longest Ethernet Cable™ IpTL FastLane solutions are the 4th Generation of VPN placing your LAN securely anywhere in the world while integrating all your wireless and wired devices seamlessly. Using any Internet connection an enterprise can create its own virtualized, private, and secure LAN network. IpTL appliances work especially well in network environments VPN, WAN, and IoT applications where NAT, Nested-NAT, or Dynamic-IP/DHCP is present on both ends of a link.