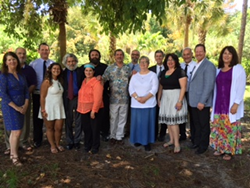 Joy, plurality and accessibility
Delray Beach, Florida (PRWEB) July 20, 2016
On the weekend of July 9th, the online Jewish Spiritual Leaders' Institute Rabbinical School of Sim Shalom, celebrated the ordination of 12 new Rabbis, a total of 112 strong, in Delray Beach, Florida. The school and the jubilant ordination redefines the process of Rabbinical studies to fulfill the growing need of cutting edge solutions that meet the criteria of the twenty- first century Jewish congregant.
Twelve newly ordained Rabbis joined the 100 JSLI trained Rabbis before them that serve worldwide in congregations as pulpit rabbis, pastoral counselors and Jewish teachers, all schooled to perform life cycle events. The Rabbis past, present and future continue the traditions of Jewish rituals officiating weddings, funerals, and B'nai Mitzvot, while guiding communities in innovative paths to celebrate spiritual life.
JSLI Rabbis based throughout United States, Europe, Asia and Canada have filled a void by reversing the decline in Judaic practice, creating vibrant, inclusive practices within existing congregations, independent tutorial Torah study, as well as leading the free week night Sim Shalom online Synagogue services.
Class #13 is already forming for September with candidates from Europe and North America spanning the continent and Jewish affiliations. To sustain Jewish identity a Rabbi's role is to understand the community.Sim Shalom and JSLI were seeded by JSLI's Dean and Founder Rabbi Steven Blane, deeply held belief that he believes expresses the pulse of the Rabbinic and congregational community: "Joy, plurality and accessibility."
About Sim Shalom and JSLI
Sim Shalom is an interactive online Jewish Universalist synagogue which is liberal in thought and traditional in liturgy. Created in 2009 by Rabbi Steven Blane on Manhattan's Upper West Side, Sim Shalom offers a means of connecting the unconnected. Rabbi Blane leads accessible and short Kabbalat Shabbat services every Friday night using a virtual interface and additionally Sim Shalom provides online education programs, Jazz concerts, conversion and life-cycle ceremonies along with weeknight services at 7:00PM EST led by Rabbis and students of this online community.
Rabbi Blane is also the founder and director of the Jewish Spiritual Leader's Institute, http://www.jsli.net, the online professional rabbinical program.
Sim Shalom, a non profit 501 © (3) tax-exempt organization, nurtures a Jewish connection through its mission of innovative services, creative education and dynamic outreach to the global community. For more information visit http://www.simshalom.com or call 201-338-0165.