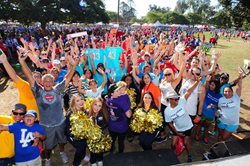 San Diego, California (PRWEB) July 12, 2016
San Diego, CA San Diegans are gearing up for the American Heart Association and American Stroke Association's 25th Anniversary San Diego Heart and Stroke Walk. Sponsors, volunteers, and walkers are already making plans to help ensure that this year's Heart and Stroke Walk is the most successful in the event's history. They are also working to create an environment where supporters will see the outcomes of that support, and how it has impacted and continues to impact their life on a daily basis. The goal is to raise more than $1.5 million.
The 25th Anniversary Heart & Stroke Walk will take place on Saturday, September 17 in Balboa Park at 6th & Laurel. The non-competitive 4.1 mile route, which participants can walk or run, will feature teams of employees from local companies as well as community teams. Friends and family members of all ages, along with pets, are invited to join. Heart disease and stroke survivors will receive special survivor t-shirts to distinguish them from the rest of the pack. There will also be a special one-mile course for survivors and others that might need to restrict their exercise because of medical needs.
The San Diego chapter of the American Heart Association is pleased to announce that Corey Liuget, #94 of the San Diego Chargers will be joining forces with the American Heart Association and has made it his personal commitment to sack heart disease. Corey is passionate about bringing awareness to heart disease because it is a cause that hits close to home for him. Corey's son was born with a heart condition, and his battle had a profound impact on Corey and his family. Corey has since dedicated himself to improving the lives of others who are affected by heart disease. He has set a personal fundraising goal of $20,000. We are so thrilled to have his support for the 25th Anniversary San Diego Heart Walk.
Registration is free, and includes free health screenings, live entertainment, kid's zone, pet zone, survivor area, VIP area, expo area, and much more.
Many things are involved in creating a successful Heart and Stroke Walk. One of the most important is the Executive Leadership Team. This year's Executive Leadership Team is led by Heart and Stroke Walk Chair Tom Gildred, CEO, Emerald Textiles. Gildred is the guiding force behind the success of the Executive Leadership Team and the Heart and Stroke Walk itself.
The Executive Leadership Team is currently engaging past Heart and Stroke Walk leaders and chairs, encouraging them to join the 25th Anniversary celebration and to bring their friends, colleagues and family members to walk, get healthy and be active.
The 2016 Heart and Stroke Walk Executive Leadership Team includes Tom Gildred (Chair), Emerald Textiles; Mike Attanasio, Cooley, LLP; Michael Bailey, Barney & Barney; Anne Benge, Unisource Solutions, Inc.; Bruce Breslau, Union Bank; Eric Casazza, FMT Consultants; Daniella Cramp, Alere, Inc.; John Frager, CBRE; Tom Gammiere, Scripps Mercy Hospital; Rick Hartsock, Advantage Ambulance; Lisa Kendall, Emerald Textiles; Gary Levine, Arthur J Gallagher & Co.; Brook Logan, Emerald Textiles; Rob Lozuk, Sequenom; Yvette Miller, Philips Volcano; Courtney Murphy, CBRE; Mark Payne, Swinerton Builders; and Dan Torpey, Qualcomm.
Their goal is to have 10,000 walkers and over 100 companies involved. With almost $400,000 raised to date, the American Heart Association is well on its way to exceeding their $1.5 million dollar goal for the 2016 Heart and Stroke Walk.
According to the American Heart Association, walking is the simplest positive change individuals can make to effectively improve their heart health because it's free, easy and has the lowest dropout rate of any exercise. Research has shown walking is the single most effective form of exercise to achieve heart health. The benefits of walking and moderate physical activity for as little as 30 minutes each day can help reduce the risk of heart disease and stroke - the number one and number five killers of Americans, respectively.
Registration for the San Diego Heart & Stroke Walk is free. For information about the 25th Anniversary Heart and Stroke Walk, the Executive Leadership Team, participating or to make a donation, visit http://www.SDHeartWalk.org or call 858-410-3827.
The 25th Anniversary American Heart Association San Diego Heart & Stroke Walk is sponsored nationally by Subway, and locally by Union Bank. The San Diego Heart and Stroke Walk is presented by Emerald Textiles. Additional sponsors include Qualcomm, Alere, UC San Diego Health, AIG, Arthur J. Gallagher, Cooley, Swinerton Builders, Advantage Ambulance, Barney & Barney and Scripps Health.
About the American Heart Association
The American Heart Association is devoted to saving people from heart disease and stroke – America's No. 1 and No. 5 killers. We team with millions of volunteers to fund innovative research, fight for stronger public health policies, and provide lifesaving tools and information to prevent and treat these diseases. The Dallas-based association is the nation's oldest and largest voluntary organization dedicated to fighting heart disease and stroke. To learn more or to get involved, visit us on Facebook at https://www.facebook.com/AHASanDiego or call 1-858-410-3850.