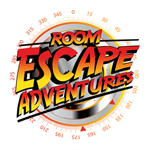 Plain City, Ohio (PRWEB) July 06, 2016
Room Escape Adventures (roomescapeadventures.com) has partnered with Mud Ninja to give people the deal of a lifetime. Simply go through any of Room Escape Adventures escape rooms, and even if the participants don't beat the clock and get out of the room on time, they'll get half-price tickets to Mud Ninja. Everybody wins!
"There is simply no better way to keep the fun of your corporate team event, date night, or family adventure going after you visit one of our escape rooms," says company founder Marty Lee Parker. "Mud Ninja offers 5KM of extreme terrain with 25 obstacles. You'll feel like you are a contestant on Wipeout!"
Mud Ninja has a course for children too, so get little ninjas in on the action.
"If you enjoyed the mental challenge of our escape rooms, you'll love the physical challenge of Mud Ninja," Parker continues. "Mud Ninja is the perfect partnership for Room Escape Adventures because they offer the same things we love – active family-friendly fun in a safe atmosphere that allows you to push past your inhibitions and boundaries to create a sense of accomplishment and pride in what you can do. You don't know what you are capable of until you try, so why not try while having fun with your family, co-workers or friends?"
To create lasting memories while having the adventure of a lifetime, visit roomescapeadventures.com/locations today, book a room escape game, and get half price tickets to Mud Ninja.
About Room Escape Adventures: Room Escape Adventures take participants out of their busy, tech-filled lives and into a situation where they have to rely on their wits and each other in order to beat the game. Rather than watching the action on TV, you are in the action as you plot, plan and hopefully outwit the obstacles standing between you and your freedom. As you and your friends, family or coworkers find the clues and put them all together while trying to avoid being eaten by a zombie, you'll discover team building skills and deepen friendships like never before.
Contact Details:
Marty Lee Parker
Bucket List Productions LLC
Plain City, OH 43064
Phone: 614-353-3969
Email: info(at)roomescapeadventures(dot)com
Source: Bucket List Productions LLC
###