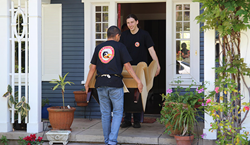 Founded by a veteran in the antiques and collectibles market, Earlybird Liquidation saw how estate liquidation could be better.
Altadena, CA (PRWEB) July 12, 2016
Hughes Estate Sales, Inc. announces the launch of Earlybird Liquidation, their new onsite estate sale division. Earlybird Liquidation provides professional, trustworthy, fully insured estate sale services to the Los Angeles region.
Need to empty a home of its contents? Earlybird Estate Liquidation makes it easy. They will handle everything from the moment they take a project under their wing to the moment the settlement check is in hand. They'll focus on putting on a great estate sale, turning homes into a well-organized stores, and providing excellent customer service along the way. Upfront pricing and knowledgeable, courteous staff make it a stress free process.
Earlybird Liquidation is fully insured and bonded and their workforce is covered by workers' compensation insurance. Their proprietary barcoded pricing and point-of-sale system ensures complete and accurate accounting. Earlybird Liquidation conducts estate sales all over the Los Angeles region and Southern California.
Angela Pena, the Hughes Estate Sales Showroom Manager and familiar face to Hughes Estate Sales shoppers, will oversee all aspects of Earlybird Liquidation.
Hughes Estate Sales, Inc. been an industry leader for more than 35 years. Hughes Estate Sales is a member of the Antiques & Collectibles National Association (ACNA), an Accredited Estate Liquidator with the American Society of Estate Liquidators (ASEL), and is certified by the American Society of Appraisers (ASA).