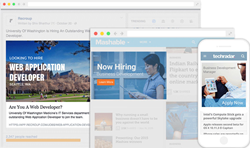 At Recroup, we decided to build a platform that allow recruiters to work like marketers.
Thunder Bay, Ontario (PRWEB) July 21, 2016
Recroup today released the most advanced talent retargeting and analytics platform that combines candidate insights with job retargeting tools to improve online recruiting efforts.
Using Recroup, employers can observe how candidates are interacting with their career site and job pages. Teams can track the routes candidates take to reach their jobs, the devices they use to get there, and where in the process bottlenecks exist. With advanced recruitment analytics employers can turn candidate insights into real gains. Combined with a one of a kind multi-channel retargeting platform, employers can re-engage with the candidates who are most likely to apply.
"We hear and talk so much about how recruiters should start thinking like marketers, at Recroup we decided to build a platform that allows them to actually do that" said Amit Chauhan, CEO of Recroup. "The biggest strength of Recroup is its simplicity. It is the only retargeting platform built for recruitment. Advertising is incomplete without data, this is why we have built one of the most advanced recruitment analytics suites for our customers."
Over the past year, Recroup has grown its business by securing key partnerships that enhance its recruitment platform. Recroup is committed to providing talent acquisition solutions that are affordable and allow recruiters to engage and connect with the specific talent they need.
To access the Recroup platform simply visit https://www.recroup.com and begin your trial.
About Recroup:
Recroup is an award winning advertising technology company with a core focus on recruitment. Recroup has developed the first recruitment focused retargeting platform with unique features such as one step cross channel retargeting campaigns.