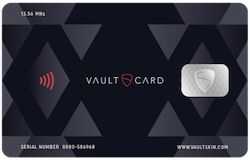 NEW YORK (PRWEB) July 07, 2016
Vaultskin, the personal security technology company, today announced the launch of VAULTCARD™ – a new pocket-sized protector in the fight against contactless credit card fraud. The product offers a solution to growing consumer concerns over the safety of personal banking data, which can be accessed via widely available Radio-Frequency Identification Technology (RFID) skimming devices.
U.S. credit card fraud is on the rise. A study by NASDAQ• showed that credit card fraud tripled from 2013 to 2014, affecting over 30 million U.S. consumers. Fraudsters can use the devices to clone cards and aid identity theft, with shoppers and commuters at most risk. VAULTCARD™ was created to solve this security issue.
Priced at $35, VAULTCARD™ is a credit-card sized device that uses revolutionary patent pending technology, based on highly sophisticated military jamming signals, to shield contactless payment cards from RFID fraud. VAULTCARD™ protects multiple cards stored inside wallets up to 8cm thick and can also be placed inside electronic passport holders to keep personal data safe from fraudsters.
The card offers the most superior and effective RFID protection solution available, and was created by VAULTCARD's parent company – Vaultskin – which specialises in the development of innovative accessories for mobile and data protection devices.
What makes VAULTCARD superior to other solutions?
Several products offer shielding using metal foil or white noise based jamming technologies, but these are susceptible to security 'blind spots', making them an unreliable solution.
VAULTCARD™ provides superior protection that:

Uses sophisticated electromagnetic jamming technology that completely blocks RFID signals from the highest-powered skimming devices
Protects multiple cards simultaneously
Does not rely on battery, powered by energy from RFID scanner
Is convenient to use
Is compact and can be used with an existing wallet
How does VAULTCARD™ work?
VAULTCARD™ automatically activates when it senses an RFID scanner, using an electromagnetic jamming barrier to protect the owner's cards from skimming devices. Contactless payments can still be enabled for genuine purchases once the contactless card is removed from the vicinity of VAULTCARD™.
Vaultskin's CEO, Thomas Kaprov, commented: "Contactless credit card fraud poses a very real and dangerous threat to consumer data safety, and without a tangible solution from the personal banking industry, professionally engineered products are required to solve the issue. VAULTCARD's highly sophisticated technology was developed as a result of more than two years of extensive research and development, involving dozens of prototypes, and is the most advanced and effective RFID protection solution available today.
"VAULTCARD™ ensures the absolute safety of contactless cards, passports, and RFID enabled identity and access cards. Other products have tried to match this protection using white noise technology or by covering cards in metal foil but these are ineffective against high-powered scanning devices," Kaprov continued.
Consumers can find out more about this exciting new product at http://www.vaultskin.com/vaultcard. VAULTCARD™ (RRP $35) can be pre-ordered now at discounted rates at Kickstarter: https://www.kickstarter.com/projects/444545273/ultimate-protection-for-your-rfid-credit-cards-and
To view a video explaining more about VAULTCARD™, please visit: https://www.youtube.com/watch?v=dgW7sNONrPY&feature=youtu.be
About VAULTCARD™
VAULTCARD™ offers pocket-sized protection against RFID fraud, shielding credit and debit cards to keep personal data safe. Its patent pending RFID protection technology is unique to contactless card safety devices and is based on highly sophisticated jamming signals frequently used by the military.
The VAULTCARD™ brand was created by Vaultskin, a multi-disciplined, creative and international company, which specialises in the development of innovative accessories for mobile and data protection devices.
Founded in 2012 and headquartered in London, the company's founders have extensive knowledge in electrical engineering, IT, and industrial design.
Vaultskin is continuing research and development trials to further expand its range to meet growing public demand for products that protect against identity theft and card fraud.
For more information visit http://www.vaultskin.com/vaultcard-technology-explainer.pdf
*http://www.nasdaq.com/article/credit-card-fraud-and-id-theft-statistics-cm520388
Media Contact
Nadine Sanders
GingerMay PR
nadine.sanders(at)gingermaypr.com
T: +44 (0)203 642 1124