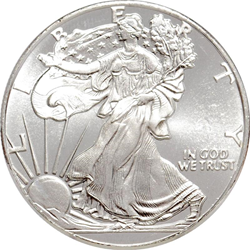 Plymouth, MN (PRWEB) July 07, 2016
Westminster Mint Offers Fractional Silver Bullion Rounds for 10c over spot silver
 
Westminster Mint Inc. is offering silver bullion rounds minted from one-tenth-ounce of pure silver for just 10c per round above the spot price of silver. These rounds have popular designs, are minted in the USA, and are hallmarked stamped with their exact weight and purity. Westminster Mint is also offering one-quarter-ounce silver bullion rounds for 25c over spot.
 
"Fractional Silver Rounds are a great way to build a silver portfolio in smaller increments and offer greater flexibility over one-ounce rounds," said Ian Clay, President of Westminster Mint.
Manufacturers typically charge the same strike fee for silver bullion rounds regardless of their size. This means that fractional pieces cost dealers more than larger one-ounce pieces and trade for a higher premium above the price of silver.
 
"We have seen a nice pop in the price and demand for silver since the Brexit vote in Great Britain. These new low prices on fractional rounds are good for all silver bullion investors," said Ian Clay. The rounds offered by Westminster Mint are ISO 9001 certified and are acceptable for delivery into most IRA and Retirement programs. Westminster Mint has set aside 25,000 one-tenth-ounce rounds and 5,000 one-quarter-ounce rounds for this test promotion.
About us
 
Westminster Mint was established in 2001. We provide an online platform and dependable service for people who require low prices and fast physical delivery of their gold and silver bullion. We offer a wide selection of the most accepted bullion items in the form of coins, bars and rounds.