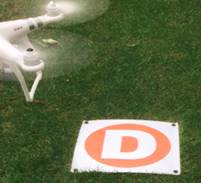 Happy Landings!
(PRWEB) July 19, 2016
Drone-Landing, an emerging business in the fast-growing global drone industry, today announced the launch of a new Drone Landing Pad for all types of drones. Drone-Landing.com is seeking to capture a share of the $2B consumer drone market. Business Insider projects revenues from drone sales to top $12 billion by 2021, while shipments of drones will more than quadruple over the next five years.
The Drone Landing Pad provides a debris free base to safely launch and recover a drone. The landing pad prevents dirt, dust and gravel from damaging the delicate components of the drone - like the camera, gimbal, propellers, and motors. The landing mat is made of easy to clean, durable vinyl. It's also highly visible, and waterproof. The grommets at each corner allow the pilot to secure it firmly to the ground. This makes it highly resistant to the downwash produced by the drone's propellers. It also rolls up for easy transport and storage. Having a designated take-off and landing pad encourages the drone pilot to be more precise, which helps build upon flying skills on every flight.
"The goal of Drone-Landing.com has been to focus on giving our customers a safe, durable and highly visible landing pad. We also made sure the design minimized the potential for damage due to rotor wash kicking up dirt and debris. With our portable landing pad, we allow you to launch and recover your flights from new places, safely," said Rich Kater, president of Drone-Landing.com. "We want our customers to enjoy the flight and the landing."
The Drone-landing.com Drone Landing Pad is customizable on larger orders and available for the upcoming holiday market now. The Drone Landing pad is available at the company's website and at Amazon.com