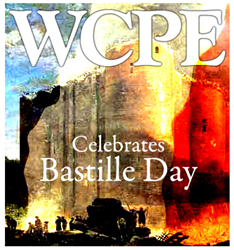 This is a celebration of the French contribution to Great Classical Music.
Wake Forest, N.C. (PRWEB) July 06, 2016
WCPE Music Director William Woltz announces a program celebrating Bastille Day on Thursday, July 14, 2016. A few short years after the United States gained its independence, the French threw off the tyranny of their absolute monarchy with the storming of the Bastille.
"We present works by Bizet, Berlioz, Rameau, Fauré, Debussy, Ravel and more," offers Woltz. "This is a celebration of the French contribution to Great Classical Music."
Highlights of the celebration:
8:00 a.m. Bizet: Carmen Suite no. 1
9:00 a.m. Leclair: Overture no. 2 in D
11:00 a.m. Rameau: Suite from Dardanus
12:00 p.m. Fauré: Suite from Pelléas et Mélisande
1:00 p.m. Debussy: Children's Corner
2:00 p.m. Berlioz: Symphonie Fantastique
3:00 p.m. Saint-Saëns: Carnival of the Animals
5:00 p.m. Ravel: Boléro
WCPE's 24/7 live broadcast of Great Classical Music, 24 Hours A Day can be accessed around the globe in several ways; on-line streaming in multiple formats, including IPv6, small dish home satellite reception, local cable television systems and traditional radio broadcasting. A complete list of the ways WCPE is available with instructions for cable and satellite reception can be found at: http://theclassicalstation.org/listen.shtml.
About WCPE:
WCPE broadcasts on a variety of FM frequencies in Eastern North Carolina and is heard throughout Eastern and Central North Carolina and Southern Virginia from its transmitting tower in Wake Forest, NC and other repeater stations. A live feed is also available on the Internet at http://www.theclassicalstation.org, cable systems, affiliate radio stations and via satellite. WCPE is a non-commercial, listener-supported station that plays classical music exclusively. WCPE is owned and operated by the Educational Information Corporation, a North Carolina non-profit broadcasting organization. The Corporation was formed in 1973 and began operating WCPE in July of 1978. The Corporation holds a federal 501 (C) (3) Public Charity Exemption Certificate and the corresponding certificate from the State of North Carolina.
Media Contact:
Curtis Brothers
919.556.5178
curtis(at)TheClassicalStation(dot)org
# # #