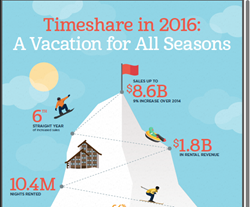 We are thrilled with our industry's performance in 2015 - six straight years of growth with sales up nine percent this year to $8.6 billion
WASHINGTON (PRWEB) July 06, 2016
The U.S. timeshare industry enjoyed steady growth in 2015, according to the State of the Vacation Timeshare Industry: United States Study 2016 Edition, conducted by Ernst & Young for the ARDA International Foundation. Compared to 2014, sales volume increased by more than nine percent and occupancy is up by over two percent.
"We are thrilled with our industry's performance in 2015 - six straight years of growth with sales up nine percent this year to $8.6 billion," said Howard Nusbaum, President and CEO of the American Resort Development Association (ARDA). "Timeshare offers a flexible vacation experience anywhere in the world. And with over 70% of the properties being two or more bedrooms, families are enjoying the space for everyone to actually relax and the privacy for individual or group time while on vacation."
There were 1,547 timeshare resorts in the United States in 2015, representing about 200,720 units for an average resort size of 130 units. The sales volume rose from $7.9 billion in 2014 to $8.6 billion in 2014, a nine-percent increase, the second largest increase percentage-wise since the recession. Occupancy increased two percent, up to almost 80 percent, compared to just a 66* percent hotel occupancy rate.
Other interesting findings from the study include: beach resorts are the most common type of resort, with theme park resorts claiming the highest occupancy. Florida has the most resorts, while Hawaii has the highest average occupancy and maintenance fees. Nevada has the largest resorts (230 units on average) while The Northeast has the lowest average maintenance fees ($690 per interval).
The report was conducted by Ernst & Young and commissioned by the American Resort Development Association (ARDA) International Foundation (AIF). For more details, see ARDA's State of the Industry infographic and for a copy of the full State of the Industry Study, visit http://www.arda.org/foundation.
*STR Monthly Hotel Review: December 2014, Smith Travel Research.
________________________________________
The American Resort Development Association (ARDA) is the Washington D.C.-based professional association representing the vacation ownership and resort development industries. Established in 1969, ARDA today has over 800 members, ranging from privately held firms to publicly traded companies and international corporations with expertise in shared ownership interests in leisure real estate. The membership also includes timeshare owner associations (HOAs), resort management companies, and owners through the ARDA Resort Owners Coalition (ARDA-ROC). For more information, visit http://www.arda.org or ARDA's consumer website at http://www.VacationBetter.org.
The ARDA International Foundation (AIF) is the timeshare industry's leading source for market intelligence and career advancement resources. AIF, a 501(c) (3) organization, serves to enhance knowledge for the public and industry through its comprehensive timeshare research studies, and aims to enrich careers through ongoing training, learning and development. For more information, visit http://www.arda.org/foundation.