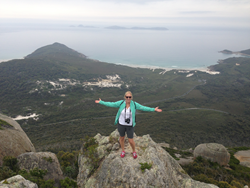 We hope Susan's story serves as inspiration to other patients battling sarcoma – especially during Sarcoma Awareness Month
MILL VALLEY, CA (PRWEB) July 07, 2016
Comprised of more than 20 paddleboard and outrigger canoe athletes from across the U.S., the Ocean of Hope Team battles the elements in several races annually to raise awareness and funds for the Sarcoma Alliance. The Sarcoma Alliance is a non-profit organization that supports everyone affected by sarcoma, a rare cancer. For the first time ever, the team includes sarcoma patients who are training and racing to inspire other athletes and survivors. Sarcoma survivor Susan Brown, 54, of Hermosa Beach, CA, has trained for several months to prepare for her first race, which coincides with Sarcoma Awareness Month in July. Susan is a longtime Southern California masters club swimmer and former high-school swim team captain at Redford Union High School in Michigan, and will race at The Big Bear Paddle Fest on July 9 in Big Bear, CA.
"I was diagnosed in 2012 with leiomyosarcoma, a rare, soft-tissue cancer, when I was having routine uterine surgery to remove a fibroid. As is typical with Sarcomas, the cancer had gone completely undetected and the surgery (under FDA warning since 2014) disrupted the Sarcoma. Sarcomas are sneaky; they hide and can mimic normal soft-tissue, which is what makes sarcoma- that accounts for 15% of cancers found in children and 1% of adults- especially deadly," said Brown. She added, "Some of the unique dangers of this lesser-known cancer include misdiagnosis and few specialists. An aggressive cancer, those afflicted with sarcoma need swift, but not always local, care." This is where the Sarcoma Alliance steps in to help. Grants are available to those who need assistance covering the out-of-pocket expenses from a second opinion consultation with a sarcoma specialist. Money raised by the Ocean of Hope team helps support this fund.
"The Sarcoma Alliance has envisioned a Survivor Paddle for many years, and we are thrilled that Susan will be our first paddler," said Alison Olig, Executive Director of the Sarcoma Alliance. "We hope Susan's story serves as inspiration to other patients battling sarcoma – especially during Sarcoma Awareness Month - and to the many paddlers who dedicate their race season to raising funds for these patients." The Survivor Paddle program was supported in part with a grant from Resurgens Charitable Foundation.
Ways to get involved

- When: July 9, 2016 7:30 AM – 3:00 PM
- Where: 465 Bartlett Rd., Big Bear Lake, CA 92315

THE SARCOMA ALLIANCE IS A NATIONAL NON-PROFIT ORGANIZATION BASED IN MILL VALLEY, CA OFFERING GUIDANCE, EDUCATION, SUPPORT, AND IMPROVED ACCESS TO CARE FOR THOSE AFFECTED BY SARCOMA.