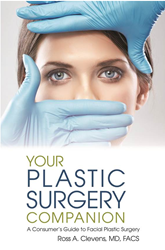 Melbourne, FL (PRWEB) July 07, 2016
Top Florida facial plastic surgeon, Ross A. Clevens, MD, FACS, has published his first book, Your Plastic Surgery Companion: A Consumer's Guide to Facial Plastic Surgery. This publication will fill the void in plastic surgery information directed at consumers looking into facial rejuvenation options.
Based on his 20 years of facial plastic surgery experience, Dr. Clevens has put together Your Plastic Surgery Companion to clearly detail the most pertinent information necessary for a successful facial plastic surgery experience. With his in-depth knowledge of cosmetic surgery, Dr. Clevens guides readers through one of the most important and rewarding decisions of their life. The book takes consumers step-by-step through the entire consultation, surgery and recovery process.
Your Plastic Surgery Companion features detailed explanations of common facial aesthetic surgical and noninvasive procedures. Chapters include information to build the knowledge base on facial plastic surgery, the advantage of specialists, preparing for success in surgery, and the nurturing process of healing. Other additions to the book include full-color before and after photos, patient testimonials, and a glossary of procedural terms.
Dr. Clevens' book is geared towards empowering the patient and encouraging their input in the surgical process. He explains, "Experienced professionals will welcome your curiosity and will encourage you to expand your knowledge base." Dr. Clevens continues, "Your facial plastic surgery experience should be a journey, not merely a destination. Make the most of your journey and enjoy your destination."
Your Plastic Surgery Companion is an up-to-date, comprehensive resource giving patients a clear understanding of what to expect and important factors to consider when pursuing facial plastic surgery. Dr. Clevens' book is available in both paperback and hardcover versions at his office, as well as in digital format on Apple iTunes at https://itun.es/us/gAFydb.l. The book will soon be available via Amazon.com.
Trained at Yale, Harvard, and the University of Michigan, Dr. Ross Clevens is a fellowship-trained facial plastic cosmetic and reconstructive surgeon, Board Certified by the American Board of Facial Plastic and Reconstructive Surgery. Dr. Clevens is a prolific speaker, teacher, author and researcher. Among his many accolades, Dr. Clevens has been named one of America's Top Physicians by the Consumers' Research Council of America and Castle-Connolly's Top Doctors. He is the founder of Clevens Face and Body Specialists, a practice based in Melbourne, Florida with offices in Merritt Island and Vero Beach. Clevens Face and Body Specialists provides comprehensive patient care, including Facial Plastic Surgery, Breast and Body Surgery, NeoGraft Hair Restoration, Injectables and Fillers, Laser Treatments, SculpSure Laser Body Contouring, Skin Cancer Care, and Medical-Grade Skin Care.
For more information about Clevens Face and Body Specialists, visit http://www.drclevens.com or call 321.727.3223 to schedule a consultation.
Contact:
Clevens Face and Body Specialists
707 W. Eau Gallie Blvd.
Melbourne, Fla. 32935
321.727.3223
http://www.drclevens.com