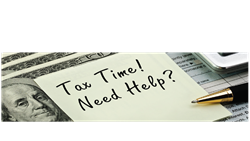 The right partnership, makes a world of difference
Garden City, NY (PRWEB) July 08, 2016
Through the use of their blog, the skilled team of CPAs and consultants continuously strive to help people save as much money as possible when tax season rolls around.
Since the creation of Nazaire & Co.'s blog back in February of this year, each article has been dedicated to assisting businesses and individuals with the frustrations and confusion that can come with filing taxes. In addition to this, the blog also puts an emphasis on things to look out for that could possibly lead to tax deductions, helping people save money along the way.
There are many expenses that people incur in their everyday lives that can written off as tax deductions, allowing to see a larger amount when they receive their tax return. However due to a lack of knowledge, many of these write-offs are ignored by individuals, causing them to withhold information that can prove beneficial in the long run.
A great example of a write-off is charitable giving but not just by donating money to a cause or foundation. Money spent on food, lodging, and clothing for a disaster relief organization, or using your automobile to provide services for a charity are also great ways to receive a significant tax deduction. Another example are home improvements made for medical reasons (elevators, swimming pools, etc.), which make filers eligible for a tax deduction as well.
As far as the potentially hundreds of other tax deductions individuals may be able to receive, Nazaire & Co. founder J. Ronald Nazaire stated "When comes to ensuring that you get the most out of your tax return, the devil is in the details. Maintaining a strong and trustworthy relationship with your accountant is the only way to the see most money possible."
Not solely focused on the tax season, Nazaire & Co.'s blog also provides advice on bookkeeping tactics, business consulting and how to keep your household and business financially stable. Those looking to stay up to date with the firm's resources and articles can follow them on various social media channels including Facebook, Twitter, and LinkedIn.
Nazaire & Co. is a full service Accounting & Consulting firm geared toward the needs of small to medium size businesses and individual clients. Integrity, innovation, industry expertise, and an on-going commitment to quality are the core values that guide us in our business.