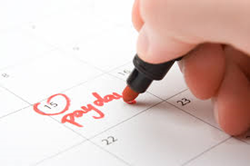 Your solution to payroll
Garden City, NY (PRWEB) July 07, 2016
"How to handle payroll in an easy and efficient manner" takes readers through the two most popular payroll processing methods; In-house and independent payroll processing. From there, the book weights the two methods' pros and cons to determine which one would be the most beneficial to their form of business. This e-book was written with the goal relieving some of the stress that comes along with managing payroll by putting their best options right in front of them.
Some of the benefits of independent payroll processors include having trained personnel to perform payroll-related responsibilities while in-house payroll allows business owners to train personnel themselves, despite there being a chance of higher costs.
Nazpay founder J Ronald Nazaire expressed his thoughts on the importance of choosing the right method when processing payroll stating "payroll is one of the most pivotal aspects of running a business with little to no room for error. It is imperative that payroll is handled in an efficient manner to keep things running smoothly, which begins first and foremost with whichever method business owners decide to choose."
"How to handle your payroll in an easy and efficient manner" is just one of many e-books that can be found on the resource page of Nazpayinc.com. Other books detail the various aspects of running a business from paying payroll taxes,tax preparation services, to steps on how to market a small business. All of Nazpay's e-books are 100 percent free of charge and available to download by simply providing your name and email address.
Anyone looking for additional resources outside of their e-books can also turn Nazpay Inc.'s blog, which regularly post articles regarding financial management for both individuals and businesses.
With services ranging from time and attendance to payroll taxes, Nazpay Inc. simplifies your payroll process, starting with the gathering of your employees' information. An experienced Payroll Specialist can contact you with one quick phone call each pay period, or you can send your payroll data via fax.