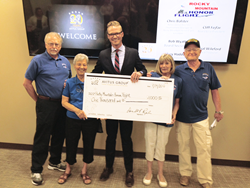 We are honored to be a part of this opportunity to show each and every one of these men and women our gratitude in all that they have done for our nation, and we hope that other local businesses will join us
Denver, CO (PRWEB) July 15, 2016
Avitus Group, a company with corporate headquarters in the Denver Metro area that helps simplify, strengthen, and grow businesses, is launching the Avitus Group Rocky Mountain Honor Flight Business Challenge. It costs $1000.00 to sent a veteran on the honor flight. Avitus Group has sent three WWII veterans on past Rocky Mountain Honor Flights and is sending a 4th veteran on the fall 2016 flight and is challenging other businesses to match the company's donation and send a veteran. The fall flight is September 15th-17th, 2016 with a welcome home ceremony at DIA on the 17th. Businesses, organizations and individuals are also encouraged to personally thank veterans by writing letters for "mail call" on the flight home.
"The Rocky Mountain Honor Flight exists to honor veterans for their service and sacrifice. Avitus Group makes it a priority to give back to the communities we live and work in, and what better way to do that than by supporting our American heroes. The Rocky Mountain Honor Flight is a such wonderful organization, and we want to say thank you to the board of directors and all of the volunteers who make this program possible," says Avitus Public Relations Manager Dianne Parker.
"How do you thank a Veteran that put aside his or her life and family to serve this great country? I firmly believe that it goes beyond a hand shake and a thank you for your service. As a Vietnam Veteran myself I know first hand what it is like to be treated when you come home and believe in our saying 'Never again will one generation of veterans abandon another.' So please if you can, help us with our fundraising campaign for our Rocky Mountain Honor Flight trips to say thank you and to let our Veterans know they are not forgotten. The Avitus Group Rocky Mountain Honor Flight Business Challenge is a great way to get involved," says Rocky Mountain Honor Flight Vice President Cliff Fejfar.
Avitus Group has also provided volunteers for the honor flight program. Avitus Group Business Development Manager Chris Balster volunteered as a guardian on the Rocky Mountain Honor Flight in May of 2016.
"It was such a humbling experience to participate on the honor flight. My grandfather is a 94-year-old Army Air Corps WWII veteran. He held the rank of 2nd lieutenant and was a navigator and bombardier on a B-29 Flying Super Fortress. My father is also a veteran and served in the Navy. I have a special place in my heart for the brave men and women who have fought to protect our country, and the Rocky Mountain Honor Flight is an amazing way to show these veterans how grateful their communities are for the sacrifices they have made," says Avitus Group Business Development Manager Chris Balster.
Avitus Group employees and their families from offices across the United States are also sending hand-written thank you letters to Colorado's veterans who will open them during "mail call" on the flight home and encourages other businesses to do the same.
"The entire Avitus Group team greatly appreciates the men and women who have given so much to this country. We are honored to be a part of this opportunity to show each and every veteran our gratitude in all that they have done for our nation, and we hope other local businesses will join us in the business challenge and match our donation. If we all give a little, we can help a lot," says President of Avitus Payroll Services and Avitus Business Services and Navy veteran Ken Balster.
Rocky Mountain Honor Flight is a Denver based non-profit (501c3) hub of the Honor Flight Network. The mission is to provide a free trip to capable WWII and Korean Veterans to Washington D.C. to say thank you, and to show the veterans that the memorials were built in their honor. For more information on the Rocky Mountain Honor Flight please visit the organization's website or view the video highlighting a past Rocky Mountain Honor Flight trip. Donations for the business challenge can be made via the website.
Avitus Group is a worldwide company that simplifies, strengthens and grows businesses by providing 'back office' support (Payroll, accounting, taxes, recruiting, information technology, human resources and much more). When a business uses Avitus Group, all of the necessary yet burdensome functions of the business become Avitus Group's responsibility, so the business can focus on what it does best. Avitus Group serves clients nationwide through regional office locations from coast to coast. The company also serves international clients through partner locations in Europe, Canada, China, England, India, Japan and Singapore.