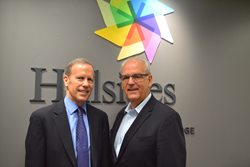 Together we will fulfill our shared vision and provide leadership during this paradigm shift in child welfare
Pasadena, CA (PRWEB) July 08, 2016
The boards of directors of Hillsides and Bienvenidos announced the creation of a parent-subsidiary relationship as of June 30. Both Hillsides and Bienvenidos will retain their individual names with Bienvenidos becoming the subsidiary and an affiliate of Hillsides.
Prompting this initiative is recent legislation, the Continuum of Care Reform (AB 403), that calls for providers like Hillsides and Bienvenidos to develop a comprehensive array of services to support children in the foster care system and their families. The goal of this legislation is to limit the amount of time children are separated from their families and support the reunification of families.
Although each agency will operate independently for a period of time, there will be one governing body and a common leadership team to provide oversight and assure integration.
The board of directors officers are: Chair Donna B. Ford, First Vice-Chair Jesse Cripps, Second Vice Chair Cara Valentini, Secretary Deborah Booth, Treasurer James Keatley, The board of directors members are: Isidro Armenta, Jennifer Brian, Bishop J. Jon Bruno, Paulette L. Burkitt, Valerie Casey, Erica Chavez, Esq., Donald Clark, William K. Covey, Jr., Cathy Cunningham, Tony Danz, Katrin Doyle, Samuel Garrison, John Gong, Gina Guerra, Wayne Guzman, Catalina S. Haaga, LeeAnn Havner, Ronald C. Hillary, MSW, Schuyler Hollingsworth, Stacey Hoppe, Chris Jennings, Esq., Kelly M. Johnson, Judy Kenyon, Nurit M. Kotick, Phaedra A. Ledbetter, Wendy Lees, John C. Lukes, Amber Young Medina, Thomas F. Miller, Fred Morrow, Lizbeth Nevarez, Steve Nishibayashi, M.D., Edward Patterson, Renee Pozza, Laura Ramirez, Janet Schulman, Robert Shepherd, Elizabeth M. Short, M.D., Sara J. Simpson, Joshua C. Stokes, Rev. Edward Sniecienski, Shelia Taylor, Adam J. Walker, Ex-officio Brent M. Mason, and The Rt. Rev. Norman Hull as the Los Angeles Episcopal Diocese bishop's representative.
Hillsides Chief Executive Officer Joseph M. Costa will remain at the helm, overseeing the agencies' combined resources and workforce of 600. Together the combined entity will have a presence throughout Metro Los Angeles, East Los Angeles and the San Gabriel Valley, serving approximately 13,000 children, youth and their families. Bienvenidos Chief Executive Officer Ritchie Geisel will retire on August 1, having initiated the process last summer that has ultimately led to the affiliation. In the coming months, Hillsides will announce its senior leadership team.
"The integration of both agencies' operations will take place over the next several months," said Costa. "We will assess the organizational needs of the combined agency and identify the infrastructure to support the delivery of services to all those we serve."
Together with Bienvenidos, Hillsides provides high quality care, advocacy, and innovative services that promote safe, permanent environments where children and youth can thrive. Headquartered in Pasadena, the agency and its affiliation with Bienvenidos serves children and families in Los Angeles County throughout its 35 sites, including school-based mental health offices in Los Angeles, Pasadena, and Baldwin Park. Licensed resource homes, formerly known as foster homes, serve families in Los Angeles, Orange, San Bernardino and Riverside Counties.
"The agencies have similar missions and complementary programs well suited for the affiliation," said Geisel. "Combined with the additional programs each brings to the table, this affiliation helps them align with current legislation, public policy, and best practice models."
"Together we will fulfill our shared vision and provide leadership during this paradigm shift in child welfare," said Costa.
To learn more about both agencies, visit http://www.Hillsides.org and http://www.Bienvenidos.org.
# # #