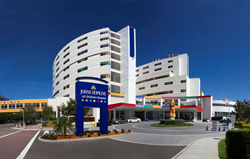 Being named as a Most Wired Hospital solidifies how our organization is taking steps to improve our IT operations and security in order to provide better patient care
St. Petersburg, Fla. (PRWEB) July 06, 2016
Hospitals & Health Networks named Johns Hopkins All Children's Hospital to its 2016 Most Wired Hospitals and Health Systems list. The list, based on the Most Wired Survey, serves as a benchmark for excellence in IT and health data security, examining how organizations leverage IT to improve performance for value-based health care. Each year, hospitals included on the Most Wired list must meet criteria in four key areas, including infrastructure, business and administrative management, clinical quality and safety and clinical integration. Johns Hopkins All Children's is the only children's hospital on Florida's west coast to be named to this year's list.
"Being named as a Most Wired Hospital solidifies how our organization is taking steps to improve our IT operations and security in order to provide better patient care at the right place, resulting in better health outcomes," says Roberta Alessi, Chief Operating Officer at Johns Hopkins All Children's Hospital. "We've already seen innovations in care for our asthma patients after clinicians reviewed and utilized data to create new guidelines in our emergency room, which helped reduce admissions and decrease the length of stay, ultimately improving the overall care for this group of patients."
More than two-thousand hospitals, roughly 34 percent of U.S. hospitals, participated in the survey. Detailed results and more information on the 2016 Most Wired Hospitals will be available in the July issue of Hospitals & Health Networks magazine. The full list of winners can be found at http://www.hhnmag.com.
About Johns Hopkins All Children's Hospital
Johns Hopkins All Children's Hospital in St. Petersburg is a leader in children's health care, combining a legacy of compassionate care focused solely on children since 1926 with the innovation and experience of one of the world's leading health care systems. The 259-bed teaching hospital, ranked as a U.S. News & World Report Best Children's Hospital, stands at the forefront of discovery, leading innovative research to cure and prevent childhood diseases while training the next generation of pediatric experts. With a network of Johns Hopkins All Children's Outpatient Care centers and collaborative care provided by All Children's Specialty Physicians at regional hospitals, Johns Hopkins All Children's brings care closer to home. Johns Hopkins All Children's Hospital consistently keeps the patient and family at the center of care while continuing to expand its mission in treatment, research, education and advocacy. For more information, visit HopkinsAllChildrens.org.