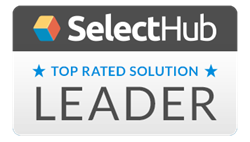 Our top position on this leaderboard confirms our ability to deliver functionality that is critical to business analytics success across an organization. Troy Marchand, CEO, Dundas Data Visualization"
Toronto, Canada (PRWEB) July 07, 2016
Dundas Data Visualization, Inc., a leading global provider of Business Intelligence and Data Visualization solutions, announced today that SelectHub has ranked Dundas BI as the top product on their Business Analytics Leaderboard.
SelectHub, a technology selection management (TSM) software company, just released their 2016 Business Analytics Leaderboard where they ranked the top Business Analytics products across more than twelve different categories. Out of 30 products, Dundas BI ranked first on the Business Analytics Leaderboard with an overall score of 96 points.
SelectHub product scores are taken from multiple sources including top analysts and actual buyers of the software. Key ranking criteria for the leaderboard include key business requirements, collaboration, mobile BI, analytics and technical features where Dundas BI was rated as "excellent."
"Having Dundas BI ranked as the top solution on SelectHub's Business Analytics Leaderboard is fantastic," said Troy Marchand, President, CEO and Co-founder, Dundas Data Visualization. "Our team has worked tirelessly to develop software that helps businesses solve problems and get maximum value out of their data. Our top position on this leaderboard confirms our ability to deliver functionality that is critical to business analytics success across an organization."
SelectHub's Leaderboard analysis provides organizations in the market for Business Analytics software with a great tool for quickly assessing the differences between the top solutions. The SelectHub Leaderboard pairs up the most important criteria for technology selections alongside vendor competencies and product capabilities. SelectHub calculates the ratings for Business Analytics platforms across more than twelve functional and business categories.
Dundas BI's position on the leaderboard confirms the benefits a modern full stack BI platform brings to its users. The breadth of options from data prep to visual data analytics and enterprise level reporting allows for the solving of many real world BI problems. Together with the fitted experience per user type, it's easier to adopt the platform and allows more users to gaining better insights.
The full Business Analytics leaderboard and scoring is available on SelectHub.
About Dundas Data Visualization, Inc. – http://www.dundas.com
Dundas Data Visualization is a leading, global provider of Business Intelligence (BI) and Data Visualization solutions. Dundas provides organizations with the most flexible, innovative and scalable BI, dashboard and reporting software, through a fully embeddable BI platform, enabling users access to all their data for better decisions and faster insights.
For more information, contact:
Lynda Phillips, Marketing Communications Manager, Dundas Data Visualization, Inc.
416.467.5100 x 167
Dundas BI, Dundas and Dundas Data Visualization are trademarks of Dundas Data Visualization, Inc. All other trademarks are the property of their respective owners.