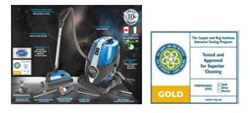 The Most Advanced Vacuum Cleaner Specifically Designed For Pet Owners And Allergy Sufferers.
Orlando, Florida (PRWEB) July 28, 2016
Among the most common allergens are pollen, mold, dust mites and animal dander, but during the summer Bermuda grass, sagebrush, ragweed and Russian thistle add to the mix making allergy sufferer's lives even more miserable. Sirena has launched its new powerhead as an upgrade to the water vacuum which reaches deep down into carpet and upholstery to remove allergens that trigger common symptoms that may include trouble breathing, sneezing, rash/itchy skin, fatigue, water eyes and many more
According to the latest statistics from the Centers for Disease Control and Prevention (CDC), "more than 50 million Americans suffer from allergies each year". Even more shocking, "allergies are responsible for nearly $20 billion in annual healthcare costs."
Many allergy sufferers turn to over-the-counter remedies or weekly allergy injections that can cause side effects like dry mouth, drowsiness, dizziness, nausea and vomiting, restlessness, blurred vision and confusion which can make it difficult to drive a vehicle, focus at work or school and stay awake making them unsuitable treatments for many people. The Sirena Total Home Cleaning System with new powerhead was designed to reach deep into carpet and upholstery fibers to remove allergens making it a great solution for consumers who would rather not take medications.
Sirena not only employs a HEPA filter, but it also mimics Mother Nature, using water as the basis for its state-of-the-art filtration. Sirena does not use bags which trap allergens inside only to be released into the air again when the bag is removed. The innovative separator technology Sirena utilizes forces air into the large 3.5L basin where dirt is trapped within the water and prevented from being exhausted into the air homeowners breathe. Once water-washed, the filtered air is returned to the environment fresh and clean. Additionally, a few drops of essential oil can be added to the basin providing therapeutic aromatherapy benefits as well.
But allergy sufferers aren't the only ones who will benefit from the Sirena Total Home Cleaning System. Pet owners, for instance, can finally get rid of pet hair once and for all. Whereas traditional vacuums lose their cleaning efficiency quickly as pet hair clogs the air holes, Sirena's water-based filtration handles even the hairiest attacks with ease.
The Sirena Total Home Cleaning System's extensive accessory set (included) is perfect for various carpet types and floor surfaces including, tile, ceramic and hardwood. It also allows for effortless cleaning of fabrics on sofas, chairs and more where stubborn dust mites, dirt, and pet dander hide.
The Sirena Total Home Cleaning System's ingenuity has earned it a rare "Gold Seal" of Approval for superior cleaning and indoor air quality from The Carpet and Rug Institute. The Sirena Total Home Cleaning System includes a washable HEPA filter and all accessories. A Fragrance Pack and Ocean Breeze Deodorizer are optional and can be purchased separately.
The Sirena Total Home Cleaning System retails for $889 and is available for purchase at BestBuy.com, HomeDepot.com, SirenaVacuum.com as well as hundreds of specialty vacuum stores nationwide.
About Sirena Inc.
Sirena Inc. was established for a singular purpose: to manufacture the Sirena Total Home Cleaning system and its accessories. This dedication has allowed the company to focus all of its efforts on producing a superior water-based system with an exceptional warranty. Sirena's mission is to provide the best possible indoor environment, especially for those who suffer from indoor air pollution such as asthma and allergies. Sirena offers the most powerful, most effective and most economical choice for consumers who care about their indoor environment. For more information on the company, please visit sirenavacuum.com.