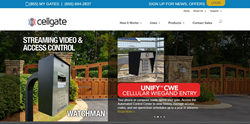 "It was important that our website spoke as much to the benefits of having our products as it did to the technical features available with each of them." Noel Gouldin, President of CellGate
Dallas, Texas (PRWEB) July 06, 2016
This week, cellular-based access control product company, CellGate, launched a newly redesigned website under their domain, http://www.cell-gate.com. The new website features a more user-friendly Menu bar, landscape images on all website pages, and a more appealing page layout for organizing different, yet relevant, groups of information.
CellGate is a leader in cellular-based access control and remote monitoring products. Until recently, most of their products were almost exclusively for gate access control and monitoring applications where electricity and land lines were not available; places like remote oil and gas sites, ranches, second homes, construction sites and unmanned commercial properties like self-storage facilities. With the release last month of their new Watchman Cellular Streaming Video Telephone Entry System, CellGate now has an access control system that appeals to almost anyone that has a gate and wants to control who enters their property. It was the advent of the Watchman system that motivated CellGate President, Noel Gouldin, to update the CellGate website with a newer version that could appeal to a broader audience.
"The cellular access control industry typically has a very technical nomenclature, and our website reflected that to some degree," says Gouldin. "However, internally we knew that with our release of the Watchman Streaming Video Telephone Entry System that almost overnight we were going to have a much broader audience of people potentially interested in our products. This broader audience may not be as technically proficient about cellular technology and access control functionality, so it was important that our website spoke as much to the benefits of having our products as it did to the technical features available with each of them. Internally, we love all of the amazing technical features CellGate products have, but we have to keep in mind who our website audience is and make sure we are appealing to what they want to know. Redesigning the website to make it feel more welcoming to technically knowledgeable people like our dealers, but also to less technically savvy people that are simply interested in the benefits CellGate products bring to their lives, has been a key element to our Watchman marketing launch strategy."
Gouldin says that having a website that was easier to update was also critical to his decision-making about the timing of launching the new website now. "Our Watchman system has so many potential applications in the marketplace that we have to be able to regularly update our website with information about how and where it can be used," says Gouldin. "We already have customers with both residential and commercial applications that are clamoring for Watchman, and we want to be as proactive as possible in communicating how Watchman is being used on our website. With the new website platform, we will be able to make website updates more quickly, and the website can be an even bigger selling tool for us than it already is."
To see CellGate's new website and to learn more about their new Watchman Cellular Streaming Video Telephone Entry System, visit http://www.cell-gate.com.
CellGate provides products and services for remote monitoring over cellular networks. They are the only technology company with a complete suite of cellular-based security products—encompassing streaming video, smart keypad entry, voice and camera solutions. With their smart phone applications and proprietary web-based portal built on Microsoft Azure's cloud service, CellGate offers flexibility found in no other access control or monitoring solution. Visit their website for more information and to view a live demo.